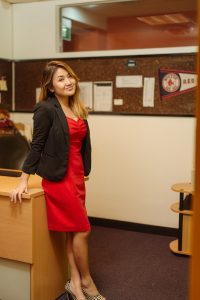 Guest: Chloe Franken Ututalum
Presenter: Henry Acosta
Guest Bio: Chloe Franken-Ututalum was born and raised in Cebu. She graduated with a Bachelor's Degree in Mass Communication at Silliman University. After graduation, she started her own business. She opened an internet cafe and coffee shop for almost 2 years, which failed. This failure became her first lesson in business. While running a failing business, Chloe worked as a copy editor at one of the BPOs in Dumaguete. In 2008, she wrote a comment on a local online forum about the abundance of talent and skill in Dumaguete and the lack of career opportunities in the city, which caught the attention of one of the executives of StudentsOnly (an online student verifications company based in Boston, Massachusetts) who was looking to outsource in the Philippines at the time. Chloe acted as a business consultant, helping the company find a potential office space and looking for potential employees. StudentsOnly Philippines (SOPHI) Inc. was then born. In 2012, StudentsOnly in the US got bought out, which led to the need for SOPHI to re-organize the company and find a new line of business. Since then, SOPHI has worked with startups worldwide. In 2014, Chloe became SOPHI's Chief Operations Officer, and in 2017, she became SOPHI's President and the Chairman of the Board.
Segment overview: SOPHI started out as a small in-house call center in Dumaguete, Philippines with a team of 7 agents for the Boston startup, StudentsOnly. As a company, SOPHI provided enrollment verifications for a student travel company in Massachusetts. In 2012, it officially became a BPO. Since then, SOPHI started working with up-and-coming companies in the US and Europe. Their clients range from on-demand delivery mobile apps, online retail sites, to booking companies in travel. SOPHI primarily caters to tech startups in the US and Europe, with flexible monthly and annual terms. What makes SOPHI different from other BPOs is their offer of 30-day trial to select companies and awesome career opportunities for the local workforce, a perfect opportunity to learn and appreciate the advantages of offshoring a team in the Philippines.
Address: HEADQUARTERS
PHILIPPINES
G/F Building 2, DBPI IT Plaza
Dumaguete City 6200
Negros Oriental
Philippines

SALES OFFICES
LONDON
4 Kingly St., Soho London, W1B 5PE, United Kingdom
+44 (0) 20 719 38283
ISLE OF MAN
First Floor, St. James's Chambers, 64a Athol St., Douglas, Isle of Man, IM1 IJE British Isles
+44 (0) 7624 306 888

Contact Number: (UK) +44 (0) 7624 306 888

Website: www.sophi-inc.com
To know more about SOPHI Inc, listen to the podcast below.
The interview will start at the 16:34 of the podcast episode.
TRANSCRIPT
Henry Acosta:  You're currently listening to the Outsourcing and Offshoring Philippines podcast with Henry Acosta. Our guest today is the President and the Chief Operating Officer of SOPHI Incorporated. SOPHI stands for Students Only Philippines. It's a BPO, there's all focuses working on small businesses or small startups and helping them expand their businesses worldwide. They are currently located in the Philippines at Dumaguete City, all the way down South. So with all that said, welcome to the show Chloe Franken Ututalum. Thank you for joining us today.
Chloe Franken Ututalum:  Hi Henry. Thank you for having me. Hi to everybody who's ever listening. So hi everybody.
Henry Acosta: I just wanted to ask, can you tell us the story of SOPHI Inc. and how it got started?
Chloe Franken Ututalum:  Well, SOPHI's story started in 2008. I actually started as an accident for me. I was writing about something about employment in Dumaguete online on a public forum and it just so happened that one of the business development execs at Students Only in Boston happened to be on that forum and he was looking for options in terms of outsourcing to the Philippines and Dumaguete was in his radar because his father just got married to a local Dumaguetaña. So he was on that forum and and he saw my name and he reached out to me and sent me an email over to that forum and asked if I knew how to start a business and if there was any information that I could give him to get him started and we sort of just started the conversation going. I sort of jump-started a research project for him just like a feasibility study for him to start in Dumaguete. And a month later, I met his dad first so that I could show him the potential spaces for them to rent and later on, I met my first boss and he came here and he liked the place and he offered me the job and I guess the rest is history.
Henry Acosta:  That sounds like a very interesting story. It's pretty crazy how you guys just met online and you somehow ended up working for a pretty big company.
Chloe Franken Ututalum:  Nine years later. And also working in a call center was never really in my career path because I graduated with a communications degree and I wanted to be in marketing and PR. So it was never really in my plans to be handling a call center and it just kind of fell on my lap. So yes, so it's been a very good surprise, the turn of events and I guess I have no regrets.
Henry Acosta:  And Dumaguete is actually a pretty unique place to be outsourcing to. What do you think makes the workforce there special that led SOPHI Inc to actually create an office there or create headquarters there?
Chloe Franken Ututalum:  Well I guess it's just the energy here in Dumaguete. Have you've been to Dumaguete?
Henry Acosta:  No. Not yet.
Chloe Franken Ututalum:  Well, Dumaguete is fairly small. It's a city but it's a very small city and it's a university town. So number one, the energy here is basically young people – young, intelligent, educated people and that's one. That's what we're really looking for in terms of people here at SOPHI. And just the energy of being relaxed and just being excited to work and to do something that contributes to the bigger picture and considering that our client-based consists of startups. These are also young people, young people who have big dreams and big ideas and I think it's just a perfect match with the young people here in Dumaguete who want to have a job with an up-and-coming tech startup. And it's a good combination because the culture is the same, the energy is there and I think what makes Dumaguete unique is that we're bringing tech jobs that are normally in the U.S. and normally in Cebu or in Manila back to a small island of just a few people. And it's unique because it's something that is really good to the community, you don't have to leave home, you don't have to miss your friends and your family, you have a really good job working for a tech startup right in Dumaguete and I think that's a special combination.
Henry Acosta:  With the Filipino value sets very instilled within all Filipinos. It's really important for us to always be close to family. That really matters. And can you tell us the services that SOPHI Inc offers to clients?
Chloe Franken Ututalum:  Well, we serve a varied range of clients. We do customer care of course. We also heavily handle travel reservations so we have a lot of travel clients and this is basically because of our travel background. So we do a lot of hotel booking, activity booking, we also deal with a lot of study abroad companies. And we do a lot of customer care for retail companies mostly on online and on the mobile app space. And we also provide lead generation and research, some data entry, a lot of back office stuff such as social media management, data curation. Aside from research, web copy and editing so a lot of really wide range of services. We haven't really gotten into the tech side of things in terms of web development and graphics design but that's something that we are thinking of going into in the future.
Henry Acosta:  You guys offer a lot of services already for a company that's in a small town actually. With regards to your clients, what kind of clients do you guys usually have?
Chloe Franken Ututalum:  Well, like I said it's a mix of a lot of startups mostly from the U.S. and we do have clients in Europe. We used to have one major client that has presence in the Philippines and all over Asia but we only did a project for them. But the profile of our clients are basically tech startup. So tech startups that are in travel, leisure. We work with one account in LA that offers designer, tux rentals and we also work with another e-commerce site where they work with celebrities where we take care of selling their merchandise online so that's another account that we work with. And we also work with a lot of food delivery startups so in the logistics space, and the online ordering space. So those are a mix of our clients.
Henry Acosta:  Well our listeners are, they could be potential clients and they're interested in outsourcing to the Philippines. So what can they expect out of SOPHI Incorporated if they do take you up on your offer?
Chloe Franken Ututalum:  Well I think one thing that we really try to sell to potential clients is that we do offer a 30-day trial for all interested clients. It's 30 days, you got one agent and you get to try us out for free and either this could be just research work or voice support. So it's a nice offer for a client to kind of test the waters and see if we're a good fit. And when they work with SOPHI, what they get number one is quality because we really take the time to recruit and profile our agents. I don't know if this is a good reputation but in Dumaguete, it's hard to get in SOPHI. So it kind of speaks about our standards when it comes to our employees. We really make sure that we have agents who speak really well but not only have the communication skills that we need for a for a phone agent but the energy and the enthusiasm as well as just the attitude on the phone to be helpful to customers and I think that's one of the best things about working with Sophie is that you get the people. I think our people is the major advantage of working with us. The people here are SOPHI and that's why we have the hashtag, '#WeAreSOPHI' because it's not just one person, it's a combination of everybody here who make the company what it is today. So when you work with Sophie, you work with great people. And we go about working with our core values which are honesty, integrity, passion for work, sincerity in our work, and when you work with us you get transparency. And what it is, is that you get an open feedback relationship where we let you know what's going on with our agents and we also do that with our agents so it's an environment with open communication and an environment that fosters learning. And just being able to grow with each other and that's I think the promise that we kind of give to our clients. We will grow with them and we can help them start from scratch because I know that most startups are have yet to have any processes in place and we're there. So we're very agile and we're very flexible and we think outside of the box and we really make sure that we work with the client to make their account a success.
Henry Acosta:  Well, have you ever had any clients visit your offices and would you ever recommend them going to the Philippines so they can actually see what's going on inside your offices?
Chloe Franken Ututalum:  Yes sure. We actually have four clients right now who have been living in Dumaguete for 6 months. One account sends a group of their own agents to Dumaguete every 6 months to kind of immerse them in our culture. So we have like a batch every 6 months to work alongside our agents. And yes, we have our clients who visit us every now and then, we do have regular visitors every year. I encourage that, I encourage our clients to come and visit because it really builds that connection with their agents and it's really exciting to see the clients and the agents need and collaborate in person because most of the time, everything is done virtually and it's nice to just have that team-building moment where everybody just kind of sits in one room and break bread with each other. And yes, it's a nice bonding moment whenever the client comes here because it gives a face to SOPHI and it kind of makes it more personalized rather than just a business relationship really.
Henry Acosta:  What has been the reception for your clients since Dumaguete is kind of far off from Manila so there's a huge difference for sure with how both cities compared?
Chloe Franken Ututalum:  Yes for sure. I think it's a good surprise for everybody. They come from big cities such as LA and New York and coming to a province like Dumaguete where we rarely have taxis here and the traffic is basically non-existent. You can get to any place in just 15 minutes which is impossible in Cebu and in Manila. So it's a refreshing change of a slower pace in life and just being in an island and I call it an island because we're surrounded with water. And yes, it's a different vibe, it's more relaxed and it's a nice change for them because comparing to a fast-paced city, Dumaguete just kind of slows things down and makes you kind of stop and just kind of enjoy life and I think it's a refreshing change for clients to just come here and work and at the same time after they work, they can go to the beach in 15 minutes which is impossible anywhere else. So yes, it's a nice vacation slash business trip for them.
Henry Acosta:  Yes. Dumaguete is actually well-known for their really nice beaches.
Chloe Franken Ututalum:  Yes and most of the foreigners like to dive. I'm a diver myself and we do have great reefs in Dumaguete for dive sites. So yes, we have a lot to offer especially we're just like 30 minutes from Apple Island which is a nice sanctuary.
Henry Acosta:  That sounds great. And for our last question, I just wanted to ask for anyone who's interested in maybe working for you guys and even working with you guys, what's the best way that they can get in touch with SOPHI Incorporated and you?
Chloe Franken Ututalum:  Well, the best way is to go to our website which is sophi-inc.com. We have a link there that clients can click so that they can try the 30-day trial. And there's also a link for anyone who wants to apply for a position here for them to easily send their resume and send their application. So just go to our website and it's just a simple click and and I'll get back to you right away.
Henry Acosta:  Awesome. Well, that's all our questions and thank you so much for stopping by.
Chloe Franken Ututalum:  No problem. Thanks for having me.
Henry Acosta:  And that was Chloe Franken Ututalum, the President and COO of SOPHI Incorporated. We just finished talking about SOPHI Incorporated, a great BPO company that really accommodates small to medium sized businesses and helped them grow in a worldwide scale. And if you're interested in learning more about the offshore and outsourcing industry in the Philippines, you can find us on our website at www.offshoring.com.ph. Our social media has daily updates on what you can do to grow your business here in the Philippines. So make sure to go on our website to find all our social media pages. Till the next time, I'm Henry Acosta and this is the Outsourcing and Offshoring Philippines podcast.