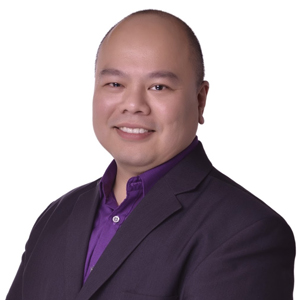 Guest: Romulo Reyes
Presenter: Henry Acosta
Guest Bio:  Mr. Romulo Reyes is the Director of Operations and Strategy of Elite Global Sourcing. He is responsible for the organization's operations, business development, corporate strategy, client relations and instigate high performance culture. Romulo joined the company in 2014 and brought with him his extensive experience in different industries such as game development-publishing, business process outsourcing and mobile telecommunications. Prior to joining Elite, he has served as COO for Optivetech Corp., General Manager for Gamebowl Inc., Business Development Manager for Cosmic Technologies Inc. (Cherry Mobile) and Operations Manager for Convergys Philippines Inc. Romulo earned his Development Communication degree from the University of the Philippines.
Segment overview: Elite Global Sourcing is an international Game Management Solutions Provider based in the Philippines with our corporate offices located in United States. Elite has been in the outsourcing and offshoring scene for almost a decade. It started out providing customer service, quality assurance, and community management services for game publishers.  As the company matures, Elite has extended their services and now offers social network management, SEO, Viral Marketing, eSports support program, and payment gateway systems.
Romulo Reyes, Director of Operations, is here to talk more about their services, their core values, how they keep up with the changes in the demands of Game Publishers, and why Philippines is a good place to build the extension of your business.
Address: Unit 410 4th Floor, Emerald Ave, Ortigas Center, Pasig, 1605 Metro Manila

Contact: (LOCAL) (02) 584 9951

Website: www.elitegsl.com
To know more about Elite Global Sourcing, listen to the podcast below.
The interview will start at the 35:50 of the podcast episode.
TRANSCRIPT – Elite Global Sourcing
Henry Acosta:  You're listening to the Outsourcing and Offshoring in the Philippines podcast with Henry Acosta. Our guest today is Romulo Reyes, the Director of Operations and Strategy at Elite Global Sourcing. He joined them back in 2014 and has helped them grow and get to the next level since then. Elite Global Sourcing specializes in game customer support, live game services, game quality assurance and a lot more services that they outsource and offshore. With all that said, welcome to the show Romulo and thanks you so much for coming.
Romulo Reyes:  Hey Henry, I'm glad to be here.
Henry:  Well to start things off, I just wanted to ask can you tell us what is Elite Global Sourcing all about?
Romulo:  Well Elite Global Sourcing is many things but in a nutshell, we are a turnkey solutions provider for game publishers and developers. What this means is anything and everything that if you develop or publish games, we can provide service or consultancy in all business verticals that you may need.
Henry:  I see. And you guys offer a different kind of package compared to other offshoring and outsourcing companies in the Philippines? Can you tell us all about the services that you guys offer to businesses?
Romulo:  Yes. Well actually, probably we can start off with how we started first. Elite Global Sourcing started off a decade ago. We were previously providing customer service, quality assurance and to a certain degree community management. And we focused on that for game publishers but as time goes on, because the way we work with our clients is we're partnered in terms of the business. So we noticed these trends in the gaming market, in the gaming community and of course the way that the products mature. I mean, I don't know if you're a gamer but probably your listeners out there either their PC, mobile or console games, they know the trend in terms of how products and games evolve and so does the players. And with this ever changing need, we see that a lot of our customers would require help in let's say in terms of social network management and another would be viral marketing, eSports. Even so far as seeding and distribution payment gateway, and fast forward to 2017 that's what we're doing right now. In terms of how we work with our clients, it's not so much as we are an outsourcing partner but we are more of a business partner. Wherein our focus, which is our mission definitely would be to provide not just support but better business bottom line and a great player experience for their customers. And so we've developed all these services for them. In fact, we're currently already hosting South East Asian eSports support program with community managers for Thailand, Indonesia, Vietnam, Malaysia, Philippines and Singapore. So if you go all the way back 10 years ago from customer service all the way to what we're now, that is how we evolved our business to support our clients and I think that's what's different in our offerings versus other outsourcing or BPO companies.
Henry:  Well, yes. You guys sound like you guys found your niche and you guys are sticking with it. And yes, as a gamer I actually appreciate your company.
Romulo:  Cool. That's great to hear.
Henry:  I was pretty excited to actually get you on the show.
Romulo:  Cool.
Henry:  Can you tell us a little bit more about your clients? Can you describe to us who your clients would be or what kind of services they should be looking for before they inquire with you guys?
Romulo:  Sure. Well actually, let's say you're a developer. Let's say you're a big developer. One of the key challenges in development would be time to market and of course the quality of the product. A lot of times you're gamer so you know a lot of these big titles. It's really a challenge trying to nail the release of a game versus specific dates within the year. Let's say for example, you want to release your game on November which is just in time for the December sales. A lot of things happen prior to that. For example, marketing and hype so for a developer, we can provide let's say game design services for them and QA. We can do an offshore quality assurance let's say for a mobile title, or a console or a PC game depending on how deep you want to go. In fact, we had a client who requested a two-month focus group discussion within Southeast Asia. So our key network within Southeast Asia had to deploy very quickly to get as much information within the target market that was provided to us for their game. And we've managed to deliver that and they've managed to create certain changes to the game design in time for their release. And the information was very, very valuable. So much so in fact that they exceeded their quarterly numbers in terms of the projected sales and downloads for the game. And let's say if you're also a developer, currently we're also doing 3D and 2D art development and integration for three MMORPGs. So let's say for example, because art is really very labor intensive and time intensive too so there are certain outsourcing aspects for that particular department that is, should I say be more practical. So for example, you can outsource or work directly with us in creating tons of art assets let's say for your MMORPG or your mobile game – creating assets such as heroes, or champions, or weapons or let's say everyday objects such as tables and chairs that would normally eat a lot of time and development. And then we can bring that over to you without you actually losing time in terms of developing that so you really just focus on making the game.
Henry:  I was just wondering since you said actually, you mentioned that you want to build partnerships with your clients. Would you ever recommend them going to the Philippines and having a go at looking at what you guys do day-to-day?
Romulo:  Yes, sure. I mean we encourage, I mean not just our company but let me talk about the Philippines in general. As you know that we are one of the leading countries in terms of BPO and KPO services. For Elite Global Sourcing, we're the leader in terms of game outsourcing. We're actually currently a local publishing partner for a huge Thailand publishing company. And one of the reasons why you should look into the Philippines in terms of services is we have a great culture. If you look at the people here, we're very accommodating, we're multicultural, we're a melting pot of people, not just for the region but globally. A lot of talent in language and let me just say this, not just in English. I mean a lot has been said with regard to the literacy rate, the English proficiency of the native people here but what people fail to take into consideration would be the big and huge expat community from other countries. And actually, they form a big part of Elite Global Sourcing's customer service and other departments. We service countries such as North America, Latin America, Korea, China, Vietnam in Southeast Asia and we have a lot of expats working in this and in our regional office here in the Philippines. So I highly encourage companies not just gaming companies to come here and evaluate the way that the Philippines as a whole with Elite Global Sourcing let's say, in terms of how we provide service. And you'll really be surprised, I mean positively surprised. We've been compared to different countries such as China, India, Indonesia, even Vietnam as an outsourcing destination and we mostly come out on top because of all of these things.
Henry:  I'm glad that you're aware of that. I've actually talked to a lot of foreigners too and they say that the Philippines actually really stands out. Not just on the way we talk, not just for the language but also for the closure that we bring in with their company. On to our next question, can you describe to us who your ideal clients are?
Romulo:  Well I wouldn't say ideal clients. I mean we have small, medium and large companies that we're working with currently. Just to give you a sort of a range, if let's say one of your listeners would be in the game development and publishing or even curious about doing it, we have three business models, let me put it this way. And regardless of your size and regardless of the platform – whether you're a PC console, or mobile game app developer or publisher – you can take advantage of our three business models. First and foremost, 'Direct Outsourcing.' Direct outsourcing means that you provide us your tools and a little bit of the processes that you want to integrate or we can create one for you and then we manage the department that you'd like for us or the business vertical that you'd like for us to work on. And the second business model we have would be a 'Staff Leasing.' If you want to have total control over the team, then we can utilize our strength in talent management, and in talent sourcing, and screening and we can get a pool of people that is tailored or customized specific to your needs and we make sure that it is future-proof. So then you can work with your remote offshore team directly, managing them on a day-to-day basis. And finally, we have a 'Virtual Captive Model.' Simply put a virtual captive model is we work together as partners in creating an organization that we can run together or utilize a build, operate and transfer scheme wherein we build and operate it within a certain amount of time for you. And then after this certain amount of time and then we turn it over to you. So going back to your question in terms of what is the ideal client and what are we looking for in them, I'd say anyone who would like or who is open to working with someone else or partnered with someone else. And they are open to change, they are open to looking at the future and having a vision in terms of what their product wants to be. And we are open to working with small, medium, even large organizations. If you don't have a process let's say for customer service, we'll build one for you. If you let's say already have a process in terms of marketing, we can deploy that for you and vice versa. So we're pretty much an open organization that can scale depending on your needs.
Henry:  That was a really great message to put out there. We're down to our last two questions in the interview. What do you want our listeners to take away from this interview about the Philippines and Elite Global Sourcing?
Romulo:  For the Philippines, if you haven't been here, come. I mean it's one thing to read about it and it's another thing to be with the people because that's the Philippines. I mean we are one of the largest providers of human talents globally, I mean we have millions of people working around the world all the way from homecare, to healthcare, to sciences, engineering, architecture, you name it. And you'll find out the reasons why Filipinos are very adaptable and work professionally. And you come here and then you experience the way we talk to people, the way we treat each other and the way we treat our guests. And you'll find out that you will see that this country has a lot of talent, still waiting to be discovered not just in terms of BPO but also other services, when KPO development programming and other business verticals that you may have. We have the infrastructure to support that and we have a huge backing from the government and from other non-governmental organizations to support not just the current needs of the industry, but also we are future proof in terms of providing the human and the infrastructure and even the real estate for the business. For Elite Global Sourcing, we are an ever-evolving company. We not just like to provide the things you would need right now but we also want to provide you analysis and proposals on how to run your business either by your own or with us, whether it be gaming, or other technical, or anything related to tech, even marketing and sales. So we are definitely a partner that you'd like to be with, not just because of who we are but we are a very adaptive organization.
Henry:  For all our listeners who are interested in getting in touch with you Romulo, what's the best way that they can get in touch with you guys?
Romulo:  They can go to our website, it's at elitegsl.com. And you can chat with us at any given time or send us an email. So you may call us, our number in our corporate headquarters is in the United States, it is +1-714-515-5507.
Henry:  Sounds great. And thank you so much for getting on the show Romulo. We really appreciate the time you took to participate in our podcast.
Romulo:  No problem Henry, anytime.
Henry:  And that was Romulo Reyes of Elite Global Sourcing. Romulo is currently their Director of Operations and Strategy. We just finished talking about Elite Global Sourcing and how the Philippines is the go-to-place for your outsourcing and offshoring needs. If you would like to know more about Elite Global Sourcing, you can visit them at www.elitegsl.com. And if you like this interview and you're wondering and wanting to know more about the BPO industry in the Philippines, you can find us at www.offshoring.com.ph. All our social media pages can be found there as well so make sure you like and subscribe to it. You can also stream and download our podcast on YouTube, SoundCloud and iTunes. I'm Henry Acosta and this is the Outsourcing and Offshoring in the Philippines podcast.