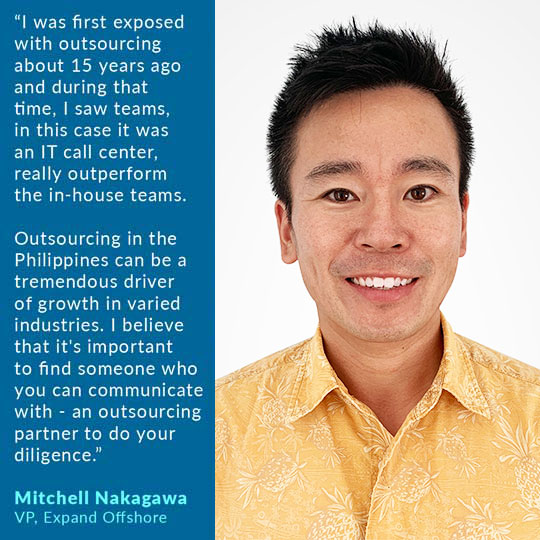 Expand Offshore's Vice President Mitchell Nakagawa joins us all the way from Honolulu, Hawaii to talk about the company's outsourcing success story and how they provide small to medium businesses the ability to scale quickly using outsourced teams in the Philippines.
He also explained why Clark Freeport Zone, Philippines is one of the best choices to set up your outsourced team and why Filipinos are a great fit for outsourced businesses.
Mitchell said in this interview, "I was first exposed with outsourcing about 15 years ago and during that time I saw teams, in this case, it was an IT call center, really outperform the in-house teams."
"Outsourcing in the Philippines can be a tremendous driver of growth in multiple varied industries. I believe that it's important to find someone who you can communicate with – an outsourcing partner to do your diligence", he added.
---
---
Dianne Grace: Hi everyone, you're listening to the Offshoring and Outsourcing Philippines podcast. I'm your host Dianne Grace and on today's episode, gracing us with his presence is Expand Offshore's Vice President Mitchell Nakagawa. He's joining us all the way from Honolulu, Hawaii. Expand Offshore provides small to medium businesses the ability to scale quickly using outsourced teams. Let us learn more about the company from Mitchell. Mitchell, thank you for making yourself available to talk with us today.
Mitchell Nakagawa: Thank you for having me, Dianne.
Dianne: Can you give us a brief background about yourself, how you began your outsourcing journey and establishing the company Expand Offshore?
Mitchell: Sure. So I was first exposed with outsourcing about 15 years ago and during that time I saw teams, in this case it was an IT call center, really outperform the in-house teams. So knowing that from a very early stage, I was exposed to the business competitive advantages that outsourcing provided. And when I started here in 2014, although our Clark office already existed, it's really been in the last three years that our executive team has been able to scale. So we started initially with another outsourcing company who helped us recruit and provided admin and HR support. After a year, we formed our own company and moved into Business Centre 10 and at the time, really for the last couple years we've been experiencing phenomenal growth and moved into a larger office within the same building twelve months later. And as the teams have grown, both career opportunities and brand awareness rose at the same time so it's been an amazing journey and we have amazing people and even our management team now has an average of 15 years of experience managing teams in the BPO industry.
Dianne: You mentioned Clark Freeport Zone here in the Philippines as your business location. So just curious, have you tried outsourcing to other countries as well?
Mitchell: We currently have a very small team in India. What makes the Philippines a great place to outsource to and Clark, in particular, is one, English as the national language. The accents are very neutral, there is a highly educated workforce there. I mean in Pampanga alone you have over 10,000 university graduates annually. And culturally the Philippines is, for us, was very westernized and the nuances in the languages and the metaphors were very similar too. And then Clark is unique in that it's a gated zone, there are economic benefits but it's also a secure area and you avoid all the congestion of Metro Manila and I think that a lot of companies also choose Clark too because it's a really fast-growing region. You have PLDT, the leading telco MPI in the Philippines cited Clark for it's an ideal environment and they just invested 1.3 billion pesos into its new data center and the government itself has dedicated over 900 million U.S. dollars to infrastructure, including a 35 million dollar upgrade to their road expansion. And for us also most people living in Angeles working in Clark have grown up in the local area so they get to live near their extended families.
Dianne: Obviously, you did your research choosing Clark as your company's location. Mitchell on your website expandoffshore.com, present advantages in choosing your company. So among these features what are the top three or rather the main ones that make Expand Offshore stand out from the other BPOs?
Mitchell: One of the things that stands out, so it's interesting that you ask the types of services. We really are very diverse across multiple industries, that's what can differentiate us from a lot of others. So we do everything from scheduling to lead generation, billing, collections, payroll, statements, we make or schedule patient appointments for people within the healthcare field. And one of the things that makes us really unique is our QA team audits every single phone call and that's really because how we hold our employees to high standards. And while people trackers and AI are on the horizon, we do want to make sure that our clients have the most successful teams supporting them and in order to do that, we need to know where to develop our employees and having a live person listen to every call allows us to pick up on some of those really small nuances in conversations which can actually lead to whether or not the person successfully converts the phone call in this example or not.
Dianne: Speaking of clients, where do they usually come from? Are you focusing on the US or do you have clients all over the world?
Mitchell: No, we're pretty diversified. At the beginning, it was US-based. Now we have companies from across the world – Australia, Japan, Singapore, India – contacting us.
Dianne: Could you share a particular success story any client that stands out how they were able to scale their company using your services?
Mitchell: Sure. One of our clients is a 32-year-old company. They operate 12 dental offices and 60,000 patients and they attributed their growth of 80 percent in the last five years directly to us. The way that we help them was initially starting with some billing, outsourcing insurance verification, e-claims filing then collections, pre-authorization follow-up calls and then we started taking scheduling their new patient phone calls and then that led into also scheduling cancellation and open treatment calls which if the dentist's diagnosis treatment, the patient accepts but they don't schedule then our team would actually call that patients, schedule them and explain their treatment and importance. And then that even led into marketing services for them so we were doing not only graphic design but we were doing web design, SEO, SEM and then actually managing their social media, both monitoring and replying to people. So we ended up, for this particular company, we now do everything from generating that potential new patient call to scheduling them, to managing their post appointment communications whether it's treatment or your 6-month teeth-cleaning appointment and all the way through the billings funnel too. One of the important things with that client is ended up freeing up office staff from doing these sometimes repetitive back office tasks to being able to focus more on the patient in front of them and really improving the patient experience. They didn't downsize any of their staff in their offices so this was a really strong add-on for them.  
Dianne: Thank you, Mitchell, for sharing that. It's a good thing that this success story led on expanding and in thinking of ways that you could serve other industries and other clients. Moving on to employees, you mentioned that indeed Clark is an emerging BPO destination and it has been attracting the workforce to Clark. So on the employee side, what makes Expand Offshore attractive to these career seeking folks?
Mitchell: So we have a terrific retention rate at 97% and that combined with employee referrals,  I think it speaks a lot about our company culture. So we do believe in the developments of our staff, enabling them to be the best version of themselves, we do that through development plans for each person in the company regardless of the position. We dedicate training time both online and we have a training department and some of these development plans are professional and some are personal in trying to find ways to create opportunities for people to practice their skills. The last time I was in Clark, I heard from an employee who wished that they could be more confident in public speaking. So as part of her development, we let her lead some of the team meeting or team huddles and there are things professionally like that and then there's also our culture that I always tell our employees to say that we're family-oriented. And family-oriented is we help cultivate that by of course encouraging people at spending time with their families, use their time off but we also invite their families to events. An example during our Halloween party, we asked our employees to invite family members and their kids over and we set up our office for trick-or-treating. I think that resonates with our employees and we back it up with doing what we say in our actions.
Dianne: It's good to know that you take into account employee feedback and try to create a family-oriented culture in our company. Mitchell, you mentioned a while ago that you were just here in the Philippines for a visit. With the other interviews that we had, other management or executives usually stay in their home country and they have people managing the business here. What do you think is the advantage of personally coming here and overlooking the company in person?
Mitchell: A member of our executive team visits our Clark office every three months. I was there in November, very late November and I'll be there in early February. I believe it's important to visit in person to build the relationships. I believe that having a strong relationship with our employees helps with retention. It helps them feel more supported, it gives another opportunity to help develop them as leaders and I think employees feel valued. We have a culture that lack of a hierarchical structure where we say we're very flat we have a open-door policy. And sometimes given the normal business culture of the Philippines, it sometimes takes employees to know that are used to that type of structure but I find that being able to sometimes sit down side by side with an employee and have a conversation and find out what's working, what's not working, what do you want to see more of? Than for our executive teams to be able to put that into action, the employee feels heard, they feel valued and I think that feeds back into our retention rate of 97 percent annually.
Dianne: Aside from the executives or management coming to your Clark office for a visit, do you also have clients flying in and visiting their staff here?
Mitchell: We have some that visit. Lots of the communication is via like a go-to meeting or Skype. Clients typically visit before they're on boarded to see what the office setup is like, to see our teams in action but generally, no they do not visit.
Dianne: Okay, thank you for that. So as we move on to our final question for today Mitchell, what is your main takeaway message especially for those listening who are considering outsourcing here in the Philippines?
Mitchell: Outsourcing in the Philippines can be a tremendous driver of growth in multiple varied industries. I believe that it's important to find someone who you can communicate with, an outsourcing partner and to do your diligence. It could be as impactful as a company wants to make it.
Dianne: Mitchell can you tell our audience how to get in touch with Expand Offshore, for those who are potential clients as well as potential employees?
Mitchell: Absolutely. You can go to the URL expandoffshore.com or if you are a prospective client or just wants to talk about outsourcing in the Philippines, you can also email me at [email protected]
Dianne: Once again the website is www.expandoffshore.com. Mitchell, thank you so much for joining us today. Thank you for making yourself available.
Mitchell: It's been a pleasure, thank you Dianne.
Dianne: Okay. I'm your host Dianne Grace for the Offshoring and Outsourcing Philippines podcast and we thank Mitchell from Expand Offshore for joining us today. He's currently in Honolulu, Hawaii – how I envy you. So this interview will be available on our website at www.offshoring.com.ph as well as on all our social media accounts – Youtube, Facebook, Twitter, Linkedin and Instagram. Our sound clips are also available for download via SoundCloud, TuneIn and iTunes. This is Dianne Grace for the Offshoring and Outsourcing Philippines podcast.