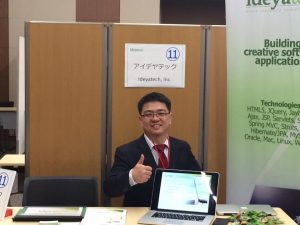 Guest: Allan Tan
Presenter: Henry Acosta
Guest Bio: Allan Tan is the CEO and President of Ideyatech, Inc. He is a techno­preneur by heart. Driven by his passion to contribute and innovate, he founded Ideyatech with the vision of building creative software applications. He has dedicated his career in information technology in the last 15 years and has developed mastery of the art of software development – true for both the technical and management aspects of it.
Segment overview: To be globally recognized in building creative software applications is the number one goal of Ideyatech, Inc.  It is a Java software development company based in Manila, Philippines with a clientele composed of companies big and small, from United States, United Kingdom, Australia, New Zealand and the Middle East. In this interview, CEO Allan Tan, talks about how he started the company in 2007 and how it has grown to maintain a solid list of loyal clients through the years.
Address: 1005 West Tower Philippine Stock Centre, Exchange, Exchange Rd, Ortigas Center, Pasig, 1605 Metro Manila

Contact: (LOCAL) (02) 740 8756

Website: www.ideyatech.com
Transcript
Henry Acosta:  Hi, I'm Henry Acosta and you are currently listening to the Offshoring and Outsourcing Philippines podcast. Our guest today is the CEO and President of Ideyatech Inc. He is Allan Tan. Allan is a technopreneur by heart given that he loves technology and as a passion to push, contribute and innovate the software development industry, he founded Ideyatech. Ideyatech is a software development company that specializes in Java technologies. They ensure that their clients are have the best quality of software that they want. With Allan's education to the IT industry in the last 15 years, he has master the art of software development on both the technical and managerial sides of that. With all that said, welcome to the show Allan. We really appreciate you getting on the show.
Allan Tan:  Hey Henry, thank you and thank you for having me in your wonderful program.
Henry Acosta:  Thank you for saying that it's wonderful. Can you tell us a little bit more about yourself? How did you get started with Ideyatech?
Allan Tan:  Well, yes sure. I started the company on 2007, that's about 10 years ago. Primarily, it was a time when a lot of the talents here in the Philippines are actually moving out of the country because of better opportunities in other parts of the world. I thought it's not really going to help the country if people keep slacking away from Philippines. I'd rather change the paradigm and bring projects in the Philippines. It's a Filipino in me, the one that we promote Philippines knowing that there are actually great Filipino talents all over the world. It doesn't have make sense that they just have to go out for a better living where we can actually just bring the project to Philippines so I decided to form the company. I had about 12 years experience before I started the company, primarily in IT and Java, and took the job.
Henry Acosta:  Congratulations on the success of the Ideyatech Incorporated.
Allan Tan:  Well, thank you. Since then, we organically grow the company, like from team of two, we are now 70. It's been a long journey. But, the growth has been sustainable, if it's all organic. Since we haven't really received any external funding until this year, but I was able to grow with the 70 and surprisingly, without any sales team. It's just like word of mouth, referral and someone like marketing. But we don't actually have a sales team. Most of our projects, we are able to close just purely from referral of existing clients and some online inquiries who happen to visit Philippines and get to know us better. That's how we're able to grow.
Henry Acosta:  Can you tell us a little bit more about Ideyatech? What do you guys do and where can people find you here in the Philippines?
Allan Tan:  Right. Our company is based in Ortigas in Manila. We are a software development firm, an outsourcing firm specialized primarily in Java. Most of our customers will work with us because we have in-depth technical knowledge on Java and they need expertise on the technology so we developed web applications, mobile applications on Java. Our clients span across the world primarily, in U.S. and Australia. We also have some clients in New Zealand and the Middle East, and Japan as well. In Philippines, we're also strong in the legal and government sector. We actually developed the case management systems of the judiciary from the Lower Courts all the way to the Supreme Court and the entire Justice System, the platform of the entire Justice System. You can say that we're also strong with document management type of systems.
Henry Acosta:  What do you guys usually offer to clients?
Allan Tan:  Primarily, for … also seeing our clients because of our technical knowledge, we will then assign a team for them. For example, a typical size would be like 2 – 3 developers. Possibly, an analyst or a team lead who will coordinate with the client and a part time tester. Sometimes, designer also depending on what the capabilities of the client is and what they need. And then we assign this people on a whole time basis for their projects.
Henry Acosta:  What can clients expect out of working with Ideyatech?
Allan Tan:  Right. Because we have the technical know-how, they will expect most our developers to have the skills already to get the projects up and running quickly. Most of our team leads also are familiar with agile and scrum methodologies and proper requirements gathering. We are able to do actually full sweep of development from gathering requirements or at least, clarifying requirements all the way to development, testing and management of production servers. We have experienced with hosting in Amazon, AWS and Azure as well. We can deliver applications on end-to-end. Having said that, a lot of our clients would actually know already their business requirements like they are experts in certain business domain and they just need a technical partner to develop the system for them. We expect the clients to know the requirements, tell us what's right or what they want or they don't want, and we deliver the application based on that.
Henry Acosta:  With regards to clients, since we're discussing it already, can you describe to us who or what would be your ideal client?
Allan Tan:  Right. We don't have any like specific industry that we're focusing into, since we are tech company, we can work with clients across different industry. Some of the clients we have on-board are into logistics, some are in actually, manufacturing brewery. Some of our clients in Australia, they are local brewery company. They brew their own beers and serve it local bars and clubs in Australia.
Henry Acosta:  With regards to the software that you guys have made, can you give us examples of the work you guys have done?
Allan Tan:  One that I mentioned earlier is on document management. We have a strong background in document management, handling scan documents, routing scan documents, searching through texts inside the documents, barcode also. Practically, anything that handles electronic documents. We've also done logistic systems. This involves like systems used by moving company or relocation company. When we ship certain items, they can control of the shipments. Actually, one interesting application we've done is a gaming platform we've done for a Japanese client. It's actually a platform that gives strucks of games, rewards, scores, statistics so much like the Apple. But we don't developed the games. The games are developed by third party, we just create APIs to interface with them, we keep track of all the games statistics.
Henry Acosta:  You guys sound like you're heavy hitters like you guys in create almost any kind of software.
Allan Tan:  Yes. I'd say in terms of the types of application we've done through a lot of types of application already. They only constraint really is that we specialized on a certain technology because there are also clients that uses other technologies, if we don't have skill for that then we're unable to help them,
Henry Acosta:  Do you guys have plans on expanding your software skills?
Allan Tan:  Thank you for asking that Henry. This year, I realized like, in order for us to grow further, we need to expand our skills set. Especially that there are a lot more newer technologies coming in; Python, R, Ruby on Rails, more on data analytics and machine learning. We started exploring into that also. Surprisingly, PHP, there's still a strong demand for PHP. We are looking into growing into other technologies as well. But I think we will probably still have to limit that to maybe three, a couple of languages because it's going to be hard also to be good in everything, right? Also to technology that we work on.
Henry Acosta:  With regards to that, why do you think the Philippines is such a great place to offshore the software development phase of a company?
Allan Tan:  Right. For one, we do have the talents that needed. Every year, the Philippines produced about 70,000 IT graduates. These are fresh raw talents that you can actually tap into and fill the team. We are very fluent in English. In fact, we're the number one in terms of voice BPO for customer service. It's one of the largest countries in the world that has English speaking people. In terms of communication, we're able to communicate with a lot of English speaking clients better than other countries. Also, a lot of our developers are very passionate and very good in their technical skills. I think a lot of our clients choose the Philippines because primarily of those two factors.
Henry Acosta:  What else do you think have … from other countries? I mean India is pretty high up there with regards to the IT industry and software development side of business?
Allan Tan:  For big multinational companies, they choose Philippines as the additional basket they have. Aside from India, they need an additional location. Philippines would be the next one. For other small companies, because Filipinos are more Americanized, they're more used to the culture so it's easier to deal and work with us. We do what we say. I think it's also the cultural differences or similarities that we have that makes us different than other countries, other outsourcing countries.
Henry Acosta:  What would be your best advice to people who want to offshore here in the Philippines?
Allan Tan:  My first advice to come to Philippines, look at the country, enjoy the view also and the traffic. But more importantly, is to actually visit the different companies that you are prospecting and see how comfortable you are working with them. I think you will learn a lot by actually coming here and talking to the different companies, the advantages and disadvantages, their location, their office sites and finally, making your decision whether to outsource the work to Philippines or not.
Henry Acosta:  Since there are so many other firms that offer the same services as you guys, what do you think has been the difference-maker for you guys compared to the other people service software development?
Allan Tan:  I think the same answer because there are lot of software outsourcing companies. There are few who are actually good in Java. If the client has specific requirements in using Java for their web applications or their mobile app, then we would be on the top-tier. I think in terms of pricing, also the reason for outsourcing is pricing. You will find us competitive than other larger companies.
Henry Acosta:  For those interested in learning more about Ideyatech, maybe prospective clients or even employees who are interested in working for you guys, what's the best way to get in touch with you guys?
Allan Tan:  Well, there's a contact page. Just to go to our website, www.ideyatech.com. There's a contact page, we'll be able to respond to your inquiries quickly. For applicants, there's also another site where you can apply. And if I may add actually Henry, this year, we actually partnered with another firm. We got investment from a Japanese firm called 'Monstar Lab'. We are not part of the Monstar Lab Group. And we are the ones operating the Philippine office for them.
Henry Acosta:  Congratulations in that and we wish you a more power.
Allan Tan:  Thank you. I am hoping that. With investment coming in, we'll be able to grow the company much faster.
Henry Acosta:  That's all our questions for today and it was a pleasure having you on the show Allan.
Allan Tan:  Thank you Henry,
Henry Acosta:  And that was Allan Tan, CEO and President of Ideyatech Incorporated. We just finished talking about Ideyatech, what they do and why they have been so successful for the last 10 years. To know more about the BPO industry here in the Philippines, you can visit us on www.offshoring.com.ph. And to know more about Ideyatech, you can visit their website at ideyatech.com. It's spelled I-D-E-Y-A-T-E-C-H.com. We're also available on SoundCloud and iTunes. Make sure to follow us on Twitter and Facebook for more updates. I'm Henry Acosta and you've been listening to the Offshoring and Outsourcing Philippines podcast.