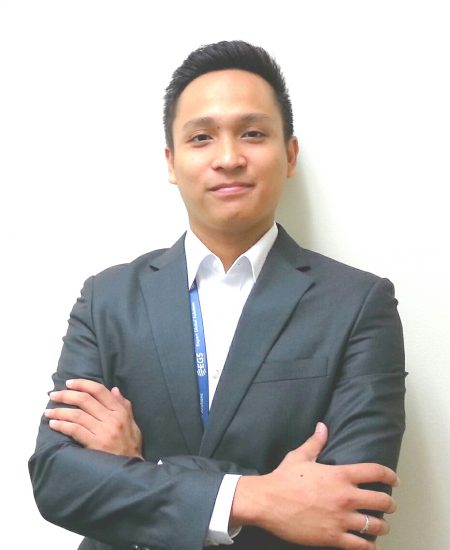 Guest: Gerardo Lacbayan Jr.
Presenter: Henry Acosta
Guest Bio: Gerardo "Gerdz" Lacbayan Jr., 28 years old, has been a BPO employee for eight years now. He took up BS Information Management in Tarlac State University and graduated Cum Laude in 2008. Two weeks after he received his diploma, he applied in EGS (then known as NCO Clark Philippines Inc) and got hired immediately as a Technical Support Representative for a gaming console account. After acclimation and a show of fluency in many skills, he became an escalations representative for inbound and outbound contacts. The company was true to its mission of developing future leaders so he took one of the slots for a supervisor apprenticeship. That very brief stint steered his career to a completely different paradigm. At the end of it, he realized that he wanted to manage people. Gerdz wanted to be at the forefront of the company's daily operations. He got promoted as a Team Manager in 2009 and got to hone his competencies in leadership. In 2010 he applied as an Operations Manager and succeeded. From overseeing a group of thirty people in a team, his scope grew to over a hundred people including front line supervisors. This year, he was promoted as Senior Manager for Operations and now responsible for running our company's logistic program here in Clark, Pampanga handling all fronts of operations, from staffing to quality to financials and even client partnership.
Segment overview: From being outside of the top 20 in terms of size, Expert Global Solutions is proud to announce that they are the third largest in the Philippines right now because of their continuous efforts to really build more verticals across different fields of industry. Their aggressiveness to really employ more people and in the process help them become successful in what they do is what really sets them apart from everybody else. Expert Global Solutions engages deeply with clients to deliver an exceptional customer experience through leading outsourced solutions, for customer and financial care. EGS customer care support services, delivered through voice, text, chat and email, span the customer management experience. From answering product-related questions and technical support, to up-selling and cross-selling, to social care. For financial care, EGS supports critical financial management functions, such as accounts receivable management, revenue cycle management, and order to cash. Another development in their company is that EGS has recently merged with Alorica, a worldwide leader in customer experience outsourcing solutions.
Address: Business Center 4, Philexcel Business Park, Manuel Roxas Highway, Clark Freeport Zone, Pampanga, Philippines

Contact Number: 

LOCAL +63917 861 7940
US 1 800 252 3996

Website: http://www.egscorp.com/
To know more about Expert Global Solutions, listen to the podcast below.
The interview will start at 15:55 mark of the podcast episode.
Transcript
Henry Acosta:  Hi I'm Henry Acosta and welcome to the Outsourcing and Offshoring in the Philippines podcast. Today we have a special guest, it's Gerard Lacbayan Jr., he's a graduate of Information Management at Tarlac State University. He graduated with high Honors in 2008 and has been working with Expert Global Solutions since then. Through his hard work and dedication he got promoted from being a technical support representative, team manager and eventually becoming senior manager of operations. He's a homegrown talent and a longtime employee of EGS. And today we're here to talk about EGS and the Philippines and how it's growing as a popular country for outsourcing. So hi Gerard, can you give us a quick introduction about who you are and what you do for Expert Global Solutions?
Gerard Lacbayan Jr.:  Alright I am Gerard Lacbayan, I'm 28 years old and I'm a Senior Manager for Expert Global Solutions. I've been with this company for 8 years now and I'm proud to be a homegrown talent for the company. I started as a technical support representative and worked my way up the corporate ladder from becoming an apprentice supervisor to a full time supervisor to a manager and now to a senior manager.
Henry:  Awesome. What inspired you or what pushed you to go work for Expert Global Solutions?
Gerard:  To be very honest I wasn't really keen in building a career in the BPO industry at first. I was one of the typical Filipinos who were very skeptical of this new industry that arrived here in the country but I guess it was really fate that brought me here. First and foremost back then I was curious about the prestige that the company brings because with the company has in its name and true to their prestige I indeed found a career haven here in EGS. They indeed live up to their expectations or to their tagline that you come for the job and you stay for the career. So from then on I never looked back and I'm very proud to have really found an illustrious career here in this company.
Henry: What do you think makes the Philippines different compared to other countries that service offshore outsourcing and what are the main benefits of doing it here?
Gerard:  Well first and foremost I believe Filipinos have an innate ability to be very, very caring and accommodating regardless of whoever they speak with. I think it's the genuine and sincere intention to really help and be of service to people that really makes us strive in this kind of industry and then secondly I think the reason why a lot of companies prefer Philippines to be their choice for vendor support is because of number 1 it's cost efficient here. And aside from cost efficiency we're becoming known to be very, very hospitable so I think if we compare the kind of service that we do with other countries the cost efficiency outweighs our ability to really be a great customer service to any customers that our clients would have.
Henry:  And when you first started out with EGS what were the cultural barriers that you've faced during your transition period when you started working for EGS?
Gerard:  That would be the night shift, I guess … We were all used to working and doing our stuff in the day and sleeping at night but as soon as we start in the BPO industry you get culturally shocked. Aside from their culture it's really the work shift so that's the biggest adjustment that someone had to really face but as they say as you go along you get accustomed to what used to be a culturally shocking practice and it's becomes a norm.
Henry:  And what do you think makes EGS different from the other outsourcing agencies that are here in the Philippines?
Gerard:  I think what really sets us apart is number one we continue to grow exponentially. We are very proud of the steps that we are making to become not just the best in the field but the biggest in the field. Right now from being outside of the top 20 in terms of size we are now proud to announce that we are the third largest in the Philippines right now because of our continuous efforts to really build more verticals across different fields of industry. So our aggressiveness really employ more people and in the process help them become successful in what they do is what really sets us apart from everybody else.
Henry:  Can you give us any testimonials or can you share with us the experiences of your clients with EGS?
Gerard:  Definitely. Number one with the program that I'm in right now, I'm part of a logistics program and I'm very proud to say that because of the quality of service that we render we've been partners for more than 30 years now and we have been very instrumental in expanding the lines of businesses that they have not just through physical interaction but through voice support and that helped them become number one in the class so that's one thing that we're very proud of. And I believe there are other programs here, a telecommunications program who has been reaping several international accolades for the kind of customer service that we do for them, so they're now becoming the strongest force in telecommunications in the United States because of exception customer service that we provide here in EGS.
Henry:  So can you give us the mission and vision of EGS?
Gerard:  Our vision is very simple. Our purpose and our belief is just to make lives better, it's just making one great interaction at a time. Our mission it's another simple statement, it's just to create an insanely great customer experience.
Henry:  And with regards to employees who are interested in working with EGS? Can you give us an insight on the processes and what do you look for when you hire employees?
Gerard:  Like any other company we do have our own screening processes but if we are to look at the core competencies we're just looking for someone who can embody the ideals of our founders and that's someone who has trust, someone who can be respected, someone who has integrity, someone who can be a team-player and who can thrive in team work and someone who can really excel and be engaged in what they do. That's alongside all these other technicalities we have in our hiring process.
Henry:  And with your experience so far, can you say that the businesses of your clients have grown considerably since they started working with EGS?
Gerard:  Absolutely. I couldn't be anymore proud of how we've helped clients to be at the top of their heap with their partnership with us and we are so excited to the future that we still have, with the many more years that we have with them.
Henry:  When you have people or client potential clients inquire to EGS, what are the common misconceptions that you usually tackle about outsourcing here in the Philippines?
Gerard:  I guess the common misconception about outsourcing here in the Philippines is the fact that they lag in terms of speaking fluency which I believe we have completely overcome. I think the fact the we have them growing and we have overtaken other countries as far as… in company's side is concerned is the testimonials to our success and really becoming the partner of choice for companies so we've really taken our opportunities seriously and we have been improving significantly over the last few years and it really shows the strength in numbers that we have.
Henry:  And do you have any memorable experiences that you can share with us while working with EGS?
Gerard:  There are a lot actually but I guess the most memorable would be the most recent one when I finally promoted as a senior manager. I think it's a culmination of my 8 years of journey in this company where I once dreamt of becoming part of a senior leadership role. It was the long ride, a long challenging and exhausting ride I should say but was worth all the wait.
Henry:  Congratulations. And with anyone who's interested with Expert Global Solutions either potential clients or employees, how can they get in touch with you guys?
Gerard:  All they have to do is just log into our website, they can visit our social media page in Facebook or they can go to egscorp.com/about or they can also visit another homepage that we have that's www.alorica.com, not known to many, I'm not sure if it has been made public already to all forms on public media but we have merged with Alorica so from time to time they might come across two different business names but we're just one entity right now, so we're still holding our name, Expert Global Solutions but in the future we would be known as Alorica.
Henry:  Awesome. That's all for the interview and thank you for being with us. It was a pleasure having you Gerard.
Gerard:  Pleasure is all mine. Thank you so much.
Henry:  Again that was Gerard Lacbayan Jr. one of the many homegrown people that's been loyal to Expert Global Solutions. He's now one of their senior managers of operations and has been helping the company grow since he started working with them 8 years ago. Thanks for being on the show and for everyone out there thank you for listening. If you've missed the show it's available for listening on www.offshoring.com.ph and you can also subscribe to us on SoundCloud and iTunes.