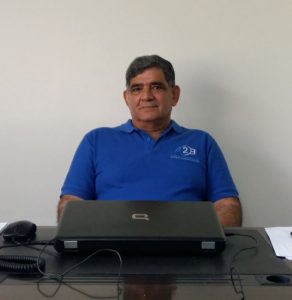 Guest: Tariq Ishaq Bhatty  
Presenter: Henry Acosta
Guest Bio: Tariq Ishaq Bhatty is the Director of Client Services at A2B Outsourcing, one of the fastest growing Australiana BPO located in Clark, Pampanga in the Philippines. He has been in the Sales and Marketing Management industry for over 25 years. Tariq was born and raised in the USA, and have been working in Asia for the past 17 years. He graduated with a Degree in Mechanical Engineering at Indiana Institute of Technology. During his leisure time, he enjoys cooking good food, watch sports and do gardening.
Segment overview: Moving people from point A to B. A2B Outsourcing is one of the fastest growing Australian BPOs in Clark, Philippines that was established in 2015. A2B Outsourcing is not just connecting 'YOU' to other people, but also reaching out with different culture to work together as one team, giving you excellent results and drive your business growth. We are joined by Tariq Ishaq Bhatty to talk about A2B Outsourcing, how he started in the industry, and why the Philippines is the ideal place to outsource your business compared with other Asian countries. His three main reasons are: (1) Filipino's admirable work ethics; (2) Educational Attainment; (3) English Language Proficiency.
Address: 1 Schipol Gateway, Wing B. Corner Manila Gateway, Global Gateway Logistics City Industrial Estate 5, Clark Freeport Zone, Pampanga, Philippines

Contact Number: (INT'L) – 1 800 940 913

Website: www.a2boutsourcing.com
To know more about A2B Outsourcing, listen to the podcast below.
The interview will start at the 33:30 mark of the podcast.