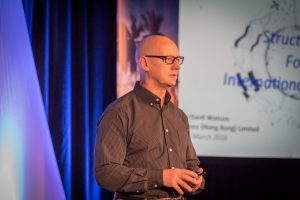 Guest: Richard Watson
Presenter: Henry Acosta
Guest Bio: In 1997, Richard decided to become an expat and moved to Hong Kong. He became its permanent resident – lived and worked there – since then.  To support the growth of Ethos (Hong Kong) Limited, Richard commutes regularly to Manila, where his back office is situated, to ensure that all back office needs are looked into.
In his more than twenty years of living in Hong Kong and Manila, and having travelled way too much around Asia, Europe and North America on business, he has seen many, many foreign entrepreneurs and companies (mostly small to medium enterprises or SMEs) come and go. Hence, the passion to write his own book he calls Homeless Entrepreneurs.
As a wrap, Richard's being an outstanding business leader is inevitable. He provides excellent executive support to his clients and staffs. He is always determined and passionate of what he is doing all through the years.
Segment overview: Ethos (Hong Kong) Limited provides comprehensive business solutions for our international clients, including corporate formation and administration services, accounting and tax services, trust and administration services, and business services. With offices in Hong Kong and The Philippines, and an extensive network of professional service providers worldwide, Ethos provides bespoke solutions to assist business owners to take their products and services to the world; and help family offices keep their wealth within the family, where it belongs, for generations to come.
Address:

Hong Kong – 901 Hermes Commercial Centre, 4a Hillwood Road, Tsim ShaTsui, Hong Kong

Philippines – Unit 2E, Cypress Gardens, 112 V.A. Rufino Street, Legaspi Village, Makati City

Contact:

Hong Kong: +852 3468 5025

Philippines: +632 744 1411

Website: www.ethoshk.com
To know more about Ethos(Hong Kong) Limited, listen to the podcast below.
Our talk with Richard Watsopn begins at the 40:05 mark of the podcast: