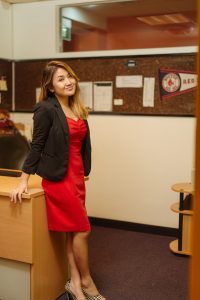 Guest: Chloe Franken Ututalum
Presenter: Henry Acosta
Guest Bio: Chloe Franken-Ututalum was born and raised in Cebu. She graduated with a Bachelor's Degree in Mass Communication at Silliman University. After graduation, she started her own business. She opened an internet cafe and coffee shop for almost 2 years, which failed. This failure became her first lesson in business. While running a failing business, Chloe worked as a copy editor at one of the BPOs in Dumaguete. In 2008, she wrote a comment on a local online forum about the abundance of talent and skill in Dumaguete and the lack of career opportunities in the city, which caught the attention of one of the executives of StudentsOnly (an online student verifications company based in Boston, Massachusetts) who was looking to outsource in the Philippines at the time. Chloe acted as a business consultant, helping the company find a potential office space and looking for potential employees. StudentsOnly Philippines (SOPHI) Inc. was then born. In 2012, StudentsOnly in the US got bought out, which led to the need for SOPHI to re-organize the company and find a new line of business. Since then, SOPHI has worked with startups worldwide. In 2014, Chloe became SOPHI's Chief Operations Officer, and in 2017, she became SOPHI's President and the Chairman of the Board.
Segment overview: SOPHI started out as a small in-house call center in Dumaguete, Philippines with a team of 7 agents for the Boston startup, StudentsOnly. As a company, SOPHI provided enrollment verifications for a student travel company in Massachusetts. In 2012, it officially became a BPO. Since then, SOPHI started working with up-and-coming companies in the US and Europe. Their clients range from on-demand delivery mobile apps, online retail sites, to booking companies in travel. SOPHI primarily caters to tech startups in the US and Europe, with flexible monthly and annual terms. What makes SOPHI different from other BPOs is their offer of 30-day trial to select companies and awesome career opportunities for the local workforce, a perfect opportunity to learn and appreciate the advantages of offshoring a team in the Philippines.
Address: HEADQUARTERS
PHILIPPINES
G/F Building 2, DBPI IT Plaza
Dumaguete City 6200
Negros Oriental
Philippines

SALES OFFICES
LONDON
4 Kingly St., Soho London, W1B 5PE, United Kingdom
+44 (0) 20 719 38283
ISLE OF MAN
First Floor, St. James's Chambers, 64a Athol St., Douglas, Isle of Man, IM1 IJE British Isles
+44 (0) 7624 306 888

Contact Number: (UK) +44 (0) 7624 306 888

Website: www.sophi-inc.com
To know more about SOPHI Inc, listen to the podcast below.
The interview will start at the 16:34 of the podcast episode.