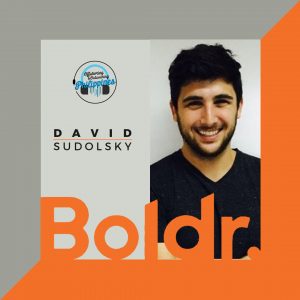 Guest: David Sudolsky
Presenter: Henry Acosta
Overview: David Sudolsky, the founder and CEO of Boldr Impact, joins the podcast all the way from LA to talk about how Boldr is a purpose-driven outsourcing partner to any growing business. What makes them stand out is they way they communicate with their clients and provide bespoke solutions that help both clients and employees move forward and take the next step for their businesses and career.
Address: 

Philippines – 1701 Tycoon Center
Ortigas, Metro Manila 1605

Washingtong(HQ) – 1400 K Street NW #1100
Washington, DC 20005

Contact:

Philippines – +63 02 504 0301

Washington – +1 949 690 9419

Website: www.boldrimpact.com
Listen to our talk and learn how Boldr leaves a lasting impact! We cover a range of topics as to why they've had great growth even though they are only a little over a year old.
-TRANSCRIPT OF INTERVIEW-
Henry Acosta:  Thanks for listening to the Outsourcing and Offshoring Podcast. Joining us today is the CEO of Boldr, he is David Soldusky. David is joining us today all the way from LA to talk about what Boldr does and who they are and what makes them stand out in the BPO industry and you can figure out why they have a lot of clients and why choosing them would be the best decision for your business. With all that said, thank you so much for joining us today David and we appreciate the time.
David Soldusky:  Thanks Henry, I really appreciate you having me here.
Henry:  And so can you tell us a little bit more about yourself before we get started?
David: Great. So originally born and raised in Southern California. I moved to the Philippines when I was 23. But when I was there, I was really boots on the ground for another startup BPO. My role there was to grow the company and I was responsible for growing it from one to a hundred people. It was there that I think we made a lot of mistakes but we fortunately all learned a lot. One of the biggest things that I saw was the fact that we made a decision to shift in our company's culture and we wanted to change it from a people-focused business to more of a client-focused and one of the things with that is that I saw the change in the culture and the people that we hired and it really disappointed me. And so fast-forwarding a couple of years, sadly, one of our business partners passed away and this business partner was someone that I was naturally aligned with and he and I were very focused on this people purpose and so with that, it was time to start Boldr and so what we did is we really wanted to continue on his path and really build a company that help people grow and develop.
Henry:  And can you tell us a little bit more about Boldr? Can you describe to us what you guys do and what you guys are about?
David:  Yes, great. So let's back up a little bit. I think it's good to look at one of the big macro chants that is happening. The International Business Process Association of the Philippines came out with this study basically saying that by 2022, technology albeit machine learning, artificial intelligence is really going to displace a large number of the outsourcing work and they do say that there is a lot of higher value tasks that are going to come in and so the outsourcing industry will need to be able to upscale itself in order to stay competitive. However, the big thing that I'm arguing is that AI machine learning, whatever type of technology you want to call it, it's here now and at Boldr, we're not waiting until 2022 to adapt to this new change. We want to make sure that everyone is really prepared for higher skilled work and that's really why we built Boldr. Our purpose is to really help people grow and develop and we want to make sure that we're having a measurable and meaningful impact within our clients' company and community.
Henry:  That's incredible. Can you tell us about the services that you guys offer with Boldr?
David:  So traditionally, we like to say that we build bespoke outsourcing services with our clients and really what that means is that we'll build a customized solution. We focus in three core areas, one is customer support, second one being data management as simple as data entry related tasks, managing dashboards and your business intelligence platform to even some data science-related work and then the third service that we offer is like sales enablement work, if it's list building, if it's building out marketing automation workflows, we'll execute those as well.
Henry:  Well, can you tell us about where you guys are in the Philippines or where your offices are here in the Philippines?
David:  That's a great question. So we're predominantly based in Ortigas. Our office in there and the reason why we decided to base ourselves on Ortigas is really because of the ability for our team members to commute there quite easily from across the metro.
Henry:  And you guys already sound different from the usual people I talked to or the usual companies that I talked to. So can you tell us a little bit more about what makes you guys stand out among all the BPO firms here in the Philippines?
David:  It's a good question and while we think we're different, we get that question from a lot of potential clients and even our existing clients. And I think the big differentiator for us is it's just this concept of impact sourcing. For me, it's really relatively new in the Philippines and yes, I think that large companies, large call centers or BPOs, they do have corporate social responsibility programs. But the big thing for me is that it's really rare to find a company that exists for the sole purpose of helping people grow and develop and I think that piece is just not common and what that enables us to do is since we are driven by a unique purpose, we're able to find, hire and recruit talent and find these individuals who are really aligned to what we want to do and those people fortunately are quite strong and if they're naturally aligned to what we want to accomplish, they stay longer and they're more driven by our purpose and so they work harder. One of the things that we've seen is that our retention is actually quite lower than other outsourcing companies just because of this.
Henry:  About your clients and the staff that they hire, can you tell us about your clients and their experience with the staff here in the Philippines and where are they usually coming from?
David:  Great. So the majority of our clients are fast-growing technology companies. We work with those fast growing companies but we also have actually started working with a lot of older companies that are new to outsourcing. The majority of our clients are geographically located on the East Coast. We have a few clients that we work with in South Africa and Europe as well which we're really excited about.
Henry:  Do you guys usually get clients who are startups or who are just getting into outsourcing and it's their first time? Can you tell us about what they should know about outsourcing here in the Philippines?
David:  For companies that are new to outsourcing, I think it's a really broad question to ask. One of the things I like to do is compare outsourcing to a similar question of like, "What type of hamburger do you want to eat?" I think and if I can explain that analogy a little bit, you can go to McDonald's and get that really standard cheeseburger that's gonna be the same no matter where you are in the world and it's gonna look exactly the same or you can go to that craft restaurant and really get that boutique hamburger that's going to be built in a way and solve your own needs. And I think the most important thing for these smaller companies that are new to outsourcing is to really identify what they need and what type of partner they want to work with. And once they find that, there's tons of companies that can provide a more standard service or willing to craft a unique solution for them.
Henry:  About the clients that you guys get and you just mentioned it a while ago, so can you tell us about the sizes of the clients that you guys are taking in right now?
David:  So the size of clients that we work with are generally a small scale to seed funded startup to anybody who is actually publicly traded companies and large organizations as well. We prefer really to work with fast-growing companies because that's where I think we're able to scale quite quickly and we really work with them as their operational partner.
Henry:  Awesome. And about your clients and working with Boldr, can you tell us about how you guys usually build them? Is there a certain system that they're supposed to be aware of or it's an per hour basis?
David:  Great question. So currently what we're doing is we like to build dedicated team models and the real reason for doing this is because we want to be seen as an extension of our clients' team. And so what we like to do is we will hire dedicated resources that work on that team almost as if they're just an extension of their local office. And so with that we actually build per team member per month as opposed to an hourly model which we've seen in more traditional call centers.
Henry:  And do you guys usually get your clients from recommendations or are you guys running a marketing scheme?
David:  Yes, we're lucky to have around 80% of our new clients come from referrals and again, I think that's just testament to the fact that they really want us to be successful and they support us and believe in our vision. I also think it's representative of the quality of the work that we're creating. So yes, roughly 80% of all of our new business is coming from referrals.
Henry:  That's incredible stuff for a BPO firm and usually they are very aggressive with how they market themselves. And can you tell us about the size of your company right now and how much employees you guys have?
David:  I should have probably explained this earlier. We started roughly about a year ago and since we started, we had some exponential growth. We're now about 150 people. So we're still quite small compared to the traditional call center or outsourcing company. Within our first year I think, that's a lot of growth and so we're really happy and really grateful for the opportunity to be working with that many people in our organization.
Henry:  And that sounds awesome and congratulations on your growth. Having over a hundred employees in just a year, that's some incredible work you guys are doing.
David:  Thanks.
Henry:  And so I'm sure at this point, a lot of people are wondering how they can get in touch with you David. So can you tell us what's the best way that people can get in touch with you?
David:  So if anybody wants to get in touch with me, feel free to reach out to our website, boldrimpact.com. You could add me on LinkedIn and you can email me at [email protected] as well.
Henry:  So before we end the interview, is there a takeaway message that you want people to leave with about Boldr?
David:  So Henry to answer that question for one takeaway for people listening, I think it's really important to identify, if you're a potential client of an outsourcing company, is really to identify the type of company you want to work with. At Boldr, we recognize that one solution doesn't fit all and we really look for partnering with companies that want to build that bespoke or customized service outsourcing solution and so those are the type of companies that we want to work with and also if companies are interested in our impact work, we would love to talk with them about that as well.
Henry:  Awesome. Well that's all our questions for today and we really appreciate the time that you've given us Dave.
David:  Thanks Henry.
Henry:  And that was Dave Soldusky, the CEO of Boldr. If you want to know more about them, please visit their website at www.boldrimpact.com. And to learn more about the Philippines and its growing BPO industry, please visit us at www.offshoring.com.ph where you can find all the people that we've talked to and the companies that we featured on the podcast. We're also on all major social media pages so just search "Offshoring and Outsourcing Philippines Podcast" and you can find our page. So don't forget to like, follow and subscribe. I'm Henry and this is the Outsourcing and Offshoring Philippines podcast.