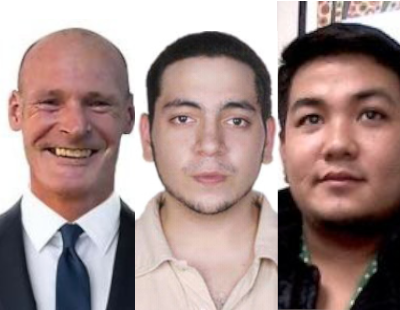 Guests:
Christopher Arguelles – Chief Executive Officer
Ryne Carpenter – Chief Operations Officer
Jonathan Oaten – Head of Business Strategy & Product Innovation
Presenter: Henry Acosta
Segment Overview: We visit the offices of the Executive Team from CKSD Outsourcing Solutions to talk about their outsourcing journey. Jonathan Oaten, along with Ryne Carpenter and Christopher Arguelles share their story on how they have developed the CKSD and how they cope up with the challenges experienced by them and the improvements they are currently working on with their business and offices.
CKSD Outsourcing Solutions specialises in providing outsourced business solutions. It is their goal to help leading brands and SME's across the globe to deliver on their promise, which is to help their employees and clients grow and succeed.
Address: Unit B, DMC Building, Don Pepe Henson Avenue, Marisol Subdivision, Barangay Ninoy Aquino, Angeles City, Pampanga 2009


Contact: AUS: +61 386691576 – UK: +44 2031292495 – US:+1 3109294027 || [email protected]

Website: www.cksdsolutions.com
Listen to our talk here:
– TRANSCRIPT OF INTERVIEW –
Henry Acosta:  Hello and welcome to the Outsourcing and Offshoring Philippines podcast and I am Henry Acosta, the host of the podcast. Our guests today are Ryne Carpenter, Jonathan Oaten and CJ Arguelles. We are currently in their offices here at CKSD Solutions and thank you so much guys for inviting me and thank you for coming on the show.
Ryne Carpenter:  We're glad to be here.
Jonathan Oaten:  We're very happy that you've come along. We're excited to hopefully advise and to share everything we've been learning on our journey. CJ?
CJ Arguelles:  Just thanks for coming by and it's the first time for us. It's our first time we're going to get interviewed. So unfortunately, Kevin is not here, the Founder of the company but I think we'll be able to pull it through.
Ryne:  Same for what they said, thanks. It's huge. We appreciate the effort you coming on and everything.
Henry:  I appreciate the invite. Well to get things started, can each of you guys give a brief intro about yourselves and tell us about what you do at CKSD Outsourcing Solutions?
Ryne:  My name is Ryne Carpenter. I'm basically the operations guy. I make ends meet and that's the easiest way to explain what I do. So I basically have an eagle's eye view, overview of all the accounts, each employee or agents' performance. I monitor everyone and I just basically help everyone meet their goals. So it's a win-win situation – help the people to get better, the clients are happy, win-win.
Jonathan:  Hi, I'm Jonathan Oaten. I'm Head of Business Strategy. I deal with the clients and literally sit down and speak to them, understand where the businesses are and how we can help improve that, come up with the solutions that are necessary, implement sometimes even brand-new solutions in things along the way because every business is different. I work very closely with Ryne because once my job is done, it doesn't mean that that's the perfect ending. Ryne actually does a little bit more than that. We have a lot of processes that continue throughout the life of the contract which I'm sure Ryne will gladly touch on later. I also look after the marketing which is always a challenge because marketing changes as you probably guys are aware 3 or 4 times a year, just like music. And so you've always got to be on top of that and knowing how best that marketing strategy you can be used for your company because it's not one shirt fits all. You've got to find out what works best for CKSD Solutions.
CJ:  Hey guys, CJ Arguelles here or Christopher James, whatever you want to call me. But anyway, Ryne Carpenter, he's the one who has an eagle's eye view of all the operations. Now myself on the other hand, I have an eagle's eye view of the entire company. I try to make sure that everything is in place. I used to be the one who handles marketing before Jonathan came in. Still, I'm helping him with marketing as well. Right now, I'm the President of the company. Kevin is the Founder.
Jonathan: We come up with great ideas.
CJ: Yes. We basically come up with solutions for different kinds of clients even if it's a solution that's not yet being done by anybody else, it's something that we always try to improve and it's always something that we try to put a process on.
Jonathan: It's very much a team effort.
Henry:  Right, sounds great and thank you guys again for inviting me to your offices. I heard you guys are doing some renovations soon so when can we expect the new offices to be up?
Ryne:  Well the planning stages, we're already done with the planning stages of the renovation of the offices. So if you guys come down to our building, basically right now, it's not bare but you can tell that there's still a huge room for improvement especially the exterior decorations. Our plan is hopefully by 2nd or 3rd quarter of this year 2018, we can occupy the second floor of this building that we're currently staying at.
CJ:  Just to add on what Ryne was saying about renovations, we started this company from ground up especially Kevin. Yes, the building belongs to Kevin's grandparents but we still need to pay rent. Business is business even though it's family, right? Now, when Kevin first started the company, it was a rough flooring like really rough finish on the floor. There were cockroaches and rats inside the old office, it was really scary. The stations were all made out of wood but two years passed and we have better stations now, the floors are a lot better, air conditioners, we changed all of them. Just like what Ryne mentioned earlier, the main plan is to really move the entire production area to the second floor. This room, our offices in the first floor, we're going to turn this more into recruitment and training, that's what the plans are. We were hoping that we could have done it last year around November or December, but there's a lot of unforeseen things that happened and it got held up. But we're really optimistic about the 2nd quarter and the 3rd quarter of this year. But once we get all the renovations done, we'll be up to 150 stations for production. We're planning to have a training room for at least 20 to 25 people.
Henry:  Well can you tell us about the services that you guys offer to your clients and the market that you guys you're targeting?
Jonathan:  Well as a market goes right now, we're concentrating on Australia and New Zealand. In the evenings, it's the United States. We do moving forward in that and we will be hitting Europe later on. But it's exceptionally busy just dealing with those two markets. The services we offer, we're really looking for SMEs (Small Medium Enterprises) in Australian language. Well again, it's really hard to identify what serve it is because we can offer so many. We're very lucky that we've got some brilliant business partners so we were able to implement their services into a solution so it's quite diversified in what we're able to offer. If I was just to go through bookkeeping, marketing, digital marketing assistance, these are the guys that if you need a marketing strategy, we'll have a marketing blueprint made up by one of our business partners who is an expert in that field and then when you take on your digital marketing assistant, they will follow that blueprint or that pathway to success. So if really for the first 3 to 4 months of that clients' lifecycle within our business, it's pretty much set that we know what goals that are going to be achieved, we can set our KPIs and there's no tears because I think marketing is one of the hardest things to actually do for any company because it's so diverse in its outcomes. If it's a terrible product, no matter what you do so we were also very particular about what clients we take on board. And if we don't feel we can help we're not just gonna say "No," I mean we do. But we also try to help them that would have put them into somebody where we feel that they can be helped whether that's the freelancer or even one of our competition if that's what's necessary. We try to at least leave them with a good opinion of our company along the way. Other services, web design, we're moving into some more high-end services which I want to keep under my belt for now because I don't what my competitors knowing anything which they're going to be very eye-opening and we'll actually take CKSD right to the forefront of where we are because it's not just a matter of what we do now, it's what we're going to be doing into the future. And looking at how outsourcing is going to be in the year 2020 – 2021 because it's going to be completely different than what it is now, in any company that's not really looking into that is going to get left behind. So we're well aware of that and I'm ready to implement the changes this year, one hopes for that to see. Anything else I forgot boys?
Ryne:  Go to the website, have a look, there's lots of things on there.
Jonathan:  And we'll keep inventing them if that's what it takes.
Henry:  So do you guys usually get your clients from just say marketing team? Do you guys have a marketing scheme or how do you usually get your clients? What kind of ways do you do?
Jonathan:  Well we've got a really unique strategy with our LinkedIn. I know other people are using that strategy but again as marketing changes, so does your strategy with LinkedIn so we use that a lot. We run email campaigns, we're about to set up a referral program, I'm going to keep that on slightly again to my belt because it's going to be very specialized where our clients which we have now are going to be able to refer people around staff and there's a lot of people on LinkedIn who are very well-connected and they're called, "Connectors" and they can actually make a very good living from actually introducing us to potential clients so that's another way that we do and we will be gaining a lot of our new clients. And hopefully word-of-mouth, without any expectation of payment.
Henry:  And have you guys had ever had clients who actually came into your offices and met up with your staff?
CJ:  Yes, we have. Actually, most of our clients have come here, we have one Korean client for English teaching. He came here, he was very happy with the service. And then one client from New Zealand and he still comes here every 3 months. And then we have that one American client from New Jersey who flew down here to check on the operations, how's it going and he likes how we treat their people, he likes how we treated him. He said, "Yes, you guys are working but it doesn't feel like you're in the office but it's working." It's like it's a family environment, that's what they want. They actually like that, especially small to medium-sized enterprises. Then we have this one client from Florida that has plans on flying in, in a month or two. So we're very welcoming when it comes to our clients. We don't hide who we are, we don't hide where we are. Me personally, I was born and raised here in Angeles City, Pampanga. So I'm not going anywhere, I'm right here. If there are any clients that asks me or any prospective clients that would ask me, "Okay, can I go there?" Of course, because we're not hiding anything. If we could actually change the name of the company, we would call it "Crystal Clear" because that's how transparent we are with the clients.
Jonathan: It's true. We were actually thinking of doing that somewhere along the way.
Henry:  About your location, you guys are found in Angeles City, Pampanga that's outside of Manila. So does that ever affect or do you get objections from clients where they ask about the talent that's available here and the type of work like the internet connection and electricity?
CJ:  It's something that Kevin and I had trouble with in the past because we all know that Angeles City or Clark, it's growing especially in the past few years, if I may say. But before that, not a lot of people have heard of Clark. But basically in the Philippines, there are three major cities that does outsourcing – we have Metro Clark which is we're about 5 or 10 minutes away from, and then we have Metro Manila and we have Metro Cebu. Talent-wise, I would say Clark is a very strategical place to be in because we're close to the people from up North and anybody that gets tired of the Metro, they can come here in Pampanga which is fairly close, it's like two hours or an hour and a half right from Manila. Anybody from up North namely Tarlac, Pangasinan, or whatever, they all come by here even if they go to Manila, they would still come by Pampanga. So if they see an opportunity in Pampanga, I'm pretty sure that they would rather stay here in Pampanga rather than go to Metro Manila especially because the provincial rate, that's already scratched off. There's no such thing as provincial rate or at least with us, there's no such thing as provincial rate. Anything that you boys want to add?
Jonathan:  I just find when speaking to clients, I see it as a plus. Because in Manila, you're gonna find people just jumping from business to business for like 10 or 20 dollars which is true guys. So for here, it's like people live here and they've got their families here and especially in Australia and New Zealand, what I would say a normal Westernized life where they go to work at 9:00 and they go home at 5:00 shall we say and they're not gonna jump around for 10 or 20 dollars because we're all paid pretty much the same wages around here. Everybody is very similar in what they're able to offer. So it's a lot more stable if you're looking for like a year solution or even into the future, the chances are and I know it thru personal experience that that team are going to stick with you through thick and thin and they're gonna be there at the end of your contract and maybe there for even longer. So I see it as a plus not really as a negative.
Ryne:  CJ and Jonathan already covered most of it. I just wanted to include that clients of course, they're thinking of their business. So again, they're outsourcing their business to number one, of course, to save some money on the labour cost but number two, when they outsource their business, they want to be sure that they can trust their partners offshore. So one of the usual responses or questions that we get from clients is how do you get your talent? Where do you get your talent? How is your talent compared to the talent available in Metro Manila? So nowadays, I can say that we are utilizing all possible recruitment streams not only social media, there's a lot of awesome strategies to get the talent needed. So it could be let's say a relocation package, it could be any other promotion out there. But at the end of the day before we line up any candidates for a client's interview, we make sure that number one, they have the skill set required and number two, they have the mindset required because again, every person that we introduce to clients reflect us as a business and similar to what CJ and Jonathan said earlier, "crystal clear solutions." We value transparency over most of all the other core values out there. Of course, respect and everything but transparency is one of our strong points. So again, that is one thing that we emphasize to clients. So again, long story short there is no challenge when it comes to recruiting talents, it's just the dedication needed. Some talents especially higher skill sets require more effort.
Henry:  Awesome. For our listeners, can you tell us exactly where your offices are at in Angeles, Pampanga and what can they expect once the renovations are done?
CJ:  Once the renovation is done? We're looking at, of course, locker rooms, better pantry, better food to eat, healthy food actually not oily food. I don't want to kill the people that works for us, you gotta keep them healthy. We're located inside of Marisol Subdivision in Angeles City. It's actually in the middle of the city. It's in between uptown which is Balibago part and downtown which is mostly like Angeles City proper. Now we're inside of Marisol subdivision, we're on the first floor, Units B and C in DMC Building, Don Pepe Henson Avenue, Angeles City. If you're coming from AUF, all you have to do is just turn right on the 7-Eleven or on the stoplight and then turn left and you'd be able to see us after like a minute of driving or even half a minute of driving, we should be on the left-hand side of the road. Now location-wise, this is not where CKSD will end. This is not the only location that CKSD will have. Our plans in the future to come is to actually possibly go to rural places of the Philippines as well, create jobs for more people, train more people, give opportunities to people that have to travel 30 to 40 minutes for them to get a decent job and that decent job I'm saying, it's a job at the mall, a job that would pay them the minimum wage. Our fresh graduates in this country definitely deserve more than just the minimum wage and me personally, I want to open the kids' minds, I want to train them into business, train them to know about outsourcing, trained their mindset on how they should look into this industry because it would not only be able to help number one, themselves but it would also help our country. Anything you boys want to add?
Jonathan:  With the training aspect of things because there so many changes which are happening so quickly that we can't guarantee that even the universities here are going to be able to keep up with it. So we're really going to be at the cutting edge of technology which you're going to be able to help businesses. We're going to be in that unique position where we're actually going to be able to train them ourselves. So it's not just taking these jobs, it's not actually being able to create these jobs I would say in the more rural areas, it's to actually still able to take these unique training skills down there and make them so much more powerful that number one, we were able to retain all our staff because we do train them from the ground up. You can't really emphasize enough just how important having very solid training is because we're able to take the best of the best and offer them to our clients which is a unique service to be able to do. And even the ones that aren't so perfect, it doesn't mean that they're lost cause, it just means that we were able to them maybe get them to another company that aren't as advanced as where we are and at a later date, you can always come back of course or just retrain them again. We're never going to be 100% let's be quite honest, as long as we can put in the best that we can and try to help as many people as we can. It's beneficial not just for any business but as you rightly point out for the Philippines and for CKSD Solutions.
Ryne:  Just to add-on, for training, I usually classify training or I divide it into two parts – skill set or skills training and again mindset training. So again, anyone is trainable. The only difference is the timeframe on how long do you need to train this person. But again in reality, even if let's say this person has all the skills needed in the world, if that person's mindset isn't trained to be professional. to have the proper work ethic, then it's useless. So yes here at CKSD, we focus on training people, developing people aside from giving them the culture, the family-oriented culture that we always like to promote. We offer them a proper and solid career path not only skills training but realistic coaching, realistic action plans and giving them the proper mindset. So further down the line, if let's say they feel that they're ready to fly, to spread their own wings and fly out of the nest, we're not going to stop them and number two, we are confident that they can make it because of us. But of course, only 10% of the effort comes from us, 90% comes from the person itself. So again, that is how we want to empower our people. So of course, any company, everything revolves around money of course – income, profit. But again at the end of the day, if there are no people, there's no company. So again, that's one of our core values as well. We value our people the same way we value our clients and of course our own company.
Henry:  And I'm sure at this point of the podcast, I'm sure a lot of our listeners would be interested in getting in touch with you guys and maybe knowing how to do that. So can you tell our listeners how they can contact you? Can you give us your number or an email address?
Jonathan:  I don't know the all numbers because we have so many. If you wish to get in touch with me about any inquiry whether if it's working I said it's me and I'll send it through recruitment, it's [email protected] and same as our website. We have an Australian number which Ryne can read because he's got his glasses on and I haven't, and American number and the UK number and we have a Filipino number or a website which we have managed to set up many ways of contacting us through Facebook, Google, Twitter. I think there's about eight different social media channels we're actually running, each one of those you're able to communicate to us with.
Ryne:  U.S. number, +1 3109294027, that's the U.S. number. Australian number, +61 386691576. UK number, +44 2031292495. And I would suggest people just go to www.cksdsolutions.com. All of our contact details are there, it's much more easier or you could also reach us by our local phone number. Our mobile phone number, it's 0915-476-1339.
Henry:  And for our last question, can you leave us a takeaway message and what you want our listeners to take away from CKSD Outsourcing Solutions?
Ryne:  CKSD Outsourcing Solutions, the bottom line here is in a world full of all these different businesses, all the competition, all the new trends, everything, the world is continuously expanding and growing – the same goes for us. Similar to what Jonathan said, one of our main goals is to be ahead of the curve. We don't want to get left in the past, so this is one thing that we can offer our clients. Not only a transparent team that's dedicated and developing that clients' team members but a dedicated team that is focused on helping the clients company grow because again at the end of the day, I'm not sure if people are familiar with the "three-legged stool" – clients, employees and the company or CKSD. If one leg is missing, the entire business model will fall apart. So contact us, let's have a chat and then we can see, we could do business further down the line.
Jonathan:  For my side of things, I just want to speak to the business owners really because that's my forte. With us, it's not just a matter of cheap labor, I just want to put that across to you straight away. We're not the cheapest and we're not the most expensive. But what we do do is a lot of value that we cover a lot of costs. So for the first thing, we have amazing systems in place, a system hub. So you're getting systems which you're not paying for. So when you come on board no matter if it's a big job or a smaller job, we'll help you systemize that and we supply you with the software to do that so it takes away key person dependency. It gives you your time which is why you're outsourcing and weighing a lot of different scenarios, it's not just cost savings it is having more time to work on your business. And so it just takes away all that stress. There's a lot of other pieces of software which we adapt which we cover the cost for. So yes, you're paying what you might feel at $900 a month in certain aspects. If it's a 3-month contract, you might think, "Oh that's a lot of money, Jonathan." But when you actually know what goes on behind the scenes, then you suddenly realize what great value that actually is because if you were to get some of these pieces of software which we pay for and if you were to do it independently, trust me it will cost you a hell of a lot more than $900. So we're always, always, always looking for new technologies and new software which we can implement. We're in a unique position where we are able to keep our costs down. Because of our great strategy, we can pretty much level off some of our costs as long as we keep growing and so we will be able to keep implementing some strategies along the way, some we will obviously have to pass on to clients but we work out very amazing prices in certain aspects under 50% of what that will cost you if you to take it from the major high street as a solution shall we say. So you definitely give me a call, find out what we can do, everyone is an individual. It's not a get-rich-quick scheme and I can't certainly get the solution for you done in a week. But Rome wasn't built in a day ladies and gentlemen.
Henry:  That's all our questions for today and thank you so much for inviting me in your offices, it's great to be here and I really appreciate your guys' time.
Jonathan:  Awesome. Thank you.
Ryne:  Thank you.
CJ:  Thanks.
Henry:  And that was Ryne Carpenter, Jonathan Oaten and CJ Arguelles, they are the top heads of CKSD Outsourcing Solutions. If you would want to reach them like what Jonathan said, you can visit their website at cksdsolutions.com or you can contact them directly at [email protected]. We have just finished talking about their services, what they do and what makes them stand out as an outsourcing firm here in the Philippines. And if you're interested in this interview and learn any more about the BPO industry in the Philippines, please do visit our website at www.offshoring.com.ph and follow us on our social media pages. I'm Henry Acosta and this is the Outsourcing and Offshoring Philippines podcast.