Guest:
Wendy S. Ang
Founder and Chief Strategist Officer
Optimind Technology Solutions
Presenter: Dianne Grace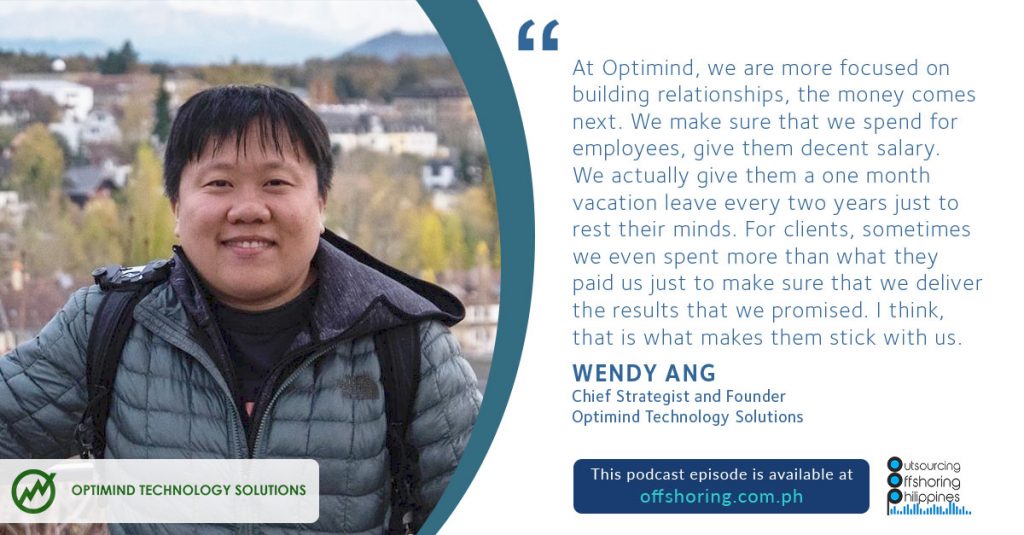 Optimind Technology Solutions (overview):
Wendy Ang, Founder and CEO of Optimind Technology Solutions (www.myoptimind.com), shares their inspirational story since establishing the company in 2002. The company specializes in digital marketing, social media, Search Engine Optimization, web design, and mobile development. Over the years, Optimind has managed to shift and adapt its business approach with the industry's ever-changing trend. They opened up their second office in Cebu City a few years later to accommodate the increasing client demand for mobile app developers. Truly an inspiring story of how Wends once dreamed of running her own web development business when she was just 21 and being able to celebrate Optimind's 17th anniversary this year.
---
Transcript:
Dianne Grace: Hi everyone, you're listening to the offshoring and outsourcing Philippines podcast. I'm your host, Dianne Grace, and today's episode I have with me Wendy S. Ang or Wends as many people call her from Optimind Technology Solutions. Now their office is based in Marikina, but they also have a branch in Cebu. They focus on digital marketing, social media, SEO, web design as well as mobile development. Amazing fact about the company is they started way back 2002, so this year they're going to celebrate their 17th anniversary. Wow, amazing. So without further ado, I would like to introduce you to Wendy and let's hear what she has to say about her company. Hi Wendy, welcome to the show.
Wendy Ang: Hi Dianne, thanks for having me.
Dianne: So can you give us a little bit of background about yourself and what made you decide to open up your digital marketing company?
Wendy: Okay. So basically I took up computer science in college, so I'm geared towards digital ever since. And since college, I was doing already some freelance software development jobs. This is what inspired me to start my own company also, but before I started, I went to Singapore for some experience and then when I went back, I started this company. I was actually just 21 when I started it and we were one of the first web development companies in the Philippines. Back then in 2002, even the big corporations don't have a website yet.
Dianne: Okay, impressive. So you had to perfect timing, setting up. Can you tell us when you were starting up, what were your target market?
Wendy: When we were starting up, we were targeting the bigger companies in the Philippines and then I discovered doing freelance work online for foreign clients and this is where we started to get more foreign clients because back then they more requirements. They have bigger demands for web development than the local market. Then we, accidentally, we discovered SEO because foreign clients have been contacting us through our website because they can find us using search
Dianne: Search engines. Where do they usually come from? From what country?
Wendy: When I started, I was still working in Singapore, so I tried to get clients from Singapore and then we also get some inquiries from the US. And also during our first few years, I think the US dollar, the exchange rate is too high so for them, the cost is low because of the exchange rate – the advantage of the exchange rate.
Dianne: So you catered to mainly Singaporean clients as well as our company's based in America.
Wendy: Yes. And then eventually we got clients also from Australia. And right, now we're doing a big project for a French company.
Dianne: Wow. So dealing with different countries with different time zones, is your company operational all day or how is your business hours?
Wendy: No, we just do day shifts and then we usually just get clients who are willing to communicate with us during our office hours, 8:00 AM to 7:00 PM. Our regular office hours is 9:00 to 6:00 but we adjust based on our clients' needs.
Dianne: Okay, cool. So you started out for a local company or a local client and then eventually branching out to foreign companies as well when you started out.
Wendy: Yes. And then as our clients get satisfied, they refer to us more clients from their country.
Dianne: That was my next question. Where do you usually get your clients? Is it word of mouth or your website? So majority of your clients, they do come from referrals, is that correct?
Wendy: Yes. Referrals and repeat projects from them, from current clients. We actually have a 90% client retention rate so most of our clients back in 2002 are still our clients, until today.
Dianne: Wow. Going strong, huh? May I ask in a geographical location, location is very important. So when you set up your office, what made you decide not to choose Makati or Bonifacio Global City. Why did you choose to set it up in Marikina?
Wendy: Actually, the very first office that we had is in Ortigas. The only reason we wanted to do Ortigas is to bring credibility because we're a start up so it adds to our credibility that we are located in Ortigas. And then once we got the clients that we want to have locally, we moved to a cheaper place. So Marikina, it's against the traffic so people don't have to rush to come to us. They don't get late and we usually hire people who live near Marikina so they don't have to go to Makati, they don't have to wake up 4:00 AM just to go to work. They don't have to experience the rush hour traffic going home and going to the office.
Dianne: So with that decision, you were able to increase the income of people living in Marikina  as well.
Wendy: Yes.
Dianne: Cool.
Wendy: And also the cost here is cheaper so you get to rent a bigger space and the people get to take home more than if they work in Makati because they have higher costs of food, higher costs in transportation. And also the people don't have to experience the rush hour traffic, they have more time to spend with their families since they don't have to spend 2-3 hours on the road, in just 30 minutes they're home. We usually hire people who just live nearby – Marikina, Antipolo, Cainta area, Montalban.
Dianne: So what made you decide to open up a second office in Cebu?
Wendy: Okay. When we opened our office in Cebu, there was a lack of a mobile app developers in Manila, so we tried to look for developers somewhere else. So then the next city is Cebu so we tried hiring from Cebu and we're very happy to get good developers from Cebu. And also whenever we hire, it's faster for us to look for human resource since we have two sources.
Dianne: It's one thing to have a clients from overseas, but it's also another to have two branches in different places in the country. Does it pose any challenge for you?
Wendy: Initially, yes because it's hard to monitor the operations. We don't have a manager in Cebu, but through the years we've learned how to manage it. We just hire jobs that can be easily measured, so writers, link builders, QA – we hire them from Cebu. So they can easily be measured through numbers. For example for writers, so just deliver x number of articles to us every week. We could easily measure that.
Dianne: So going back to the services that your company offers, it has been a common trend that web development companies start from there but eventually they branch out because when you design a website, of course you have to market it and design it and make it SEO-friendly. And then with that in mind, you have to connect it to social media. So if you were to look into the list of services that you offer, which one do you think is the highlight or the selling point of Optimind Technology Solutions?
Wendy: I think it's more of a delivering quality product and results along with it. Whenever we design websites, we develop websites, we already test them. Test their speed, we already make sure that they're SEO friendly, mobile friendly, so all of the aspects has to be there. Since we also do SEO and then we can also help clients on their digital strategy, social media, and search.
Dianne: With all the lists of clients that you have, have you ever had any foreign client come in the Philippines and visit your office?
Wendy: Yeah, actually our latest one, a French company, he visited our Cebu office. We met there and then he visited also our Manila office. We also have a client in China who always visits us here a few times every year. We do software development for them, for a medical industry in China.
Dianne: So how was their experience visiting your offices here? What feedback have you received when it's one thing that they talk to you online, but coming here in person, how was the experience for them?
Wendy: I think by visiting, it builds more trust because they get to meet our team and they get to see how passionate our team is in delivering their project and how credible the team is also whenever they talk to them, they know what they're doing.
Dianne: Wends, going back to your clients, can you give a story or share a story, one or two of the most challenging or memorable experience that you had?
Wendy: It's for a local client actually. In 2006, we're still doing mostly web development and mostly for foreign clients. We usually get tapped by OFWs who are also doing business in the US. And then one day, LBC, they inquired through us. We're not selling SEO on the website, but they inquired and asked us to do SEO for them. We didn't know SEO  by then, but we agreed to do it. We know some people who knows it so we just hired them as consultants and then the change a lot for us. After that, I think the growth – we grew faster because we've got more. SEO is subscription based, so you just have to retain the client and the revenue just flows. And the challenge there was to rank them for several keywords, I think it was 'flower delivery' – to rank them number one within two months. We were able to do it back then, but now that's impossible already.
Dianne: Yeah, I understand. Because updates, search engines and back then as you said, Google wasn't even popular when you started, it was Yahoo so it's continually evolving. I can  see on your website that you have kept long relationships with your clients, is that the same with your employees?
Wendy: Yes. We have a higher employee retention rate versus the average in the industry. Currently our average is around five years.
Dianne: How do you think is that even made possible? What does Optimind Technology Solutions bring in the table client or employee-wise so they stay?
Wendy:  Well Optimind, we're more focused on building relationships, so the money comes next. We make sure that we spend for employees, give them decent salary. We actually give them also a one month vacation leave every two years just to rest their minds. And for clients also, sometimes we even spent more than what they paid us just to make sure that we deliver the results that we promised. So I think that's what makes them stick with us.
Dianne: I would like to say it again. One month leave for your employees, is that paid leave?
Wendy: Yes, paid leave.
Dianne: Where do I sign up? Wow. So they have a whole month just for themselves, doing whatever they want.
Wendy: Yes. And then if you turn four years you have the option to use a one month leave or a paid vacation that we could sponsor.
Dianne: Wow, amazing. No wonder they stay. But with these rewards, do you have like a contract or something that if I give you this one, a month off, you lock your employees like other companies?
Wendy: No. The reward is actually for for the two years that you spent with us. So if you resign after you get the reward, that's okay.
Dianne: Wow. Okay, cool. So everyone listening work with Wends and stay with her for two years and you can go off on one whole month. That's cool. So going back to keeping up with the changing trends in digital marketing and web development, you started 2002. It's a whole different field.
Wendy: Yes.
Dianne: Now all my gosh, the competition, it's a bit overwhelming. So Wends in your opinion, how much did it change and this change threatening your company or how do you see it?
Wendy: It actually changed a lot. When we started, there's no Facebook. iPhone was already launched then but it was not that famous popular in the Philippines yet. And we don't have LTE yet when we started and through these past 16 – 17 years, we've actually added and removed services that we offer. Before we still offer flash animation services, now we don't anymore. When we started, we can do WAP. I'm not sure if you've heard of WAP, it's a code for mobile phone browser in the old mobile phones. Now our phones can read html. HTML has improved a lot also, you now have responsive layouts. Before you have to do a different layout for mobile phones, for mobile websites. Now you can just do one layout for both desktop and mobile. And like 2-3 years ago, they introduced AMP (accelerated mobile pages) which is also one of our newer services. This is to develop AMP pages for bigger websites. Facebook also wasn't around before, it was Friendster and nobody markets on Friendster. Now we have Facebook, Twitter, and Facebook is slowly dying. Instagram and Youtube are getting more famous as our internet goes faster in its speed. Faster, more videos, we now use more videos in digital marketing, unlike before nobody recommends embedding videos on their site because they won't load. So I think for the past 16 years, we've added probably five new services and we've  dropped also a few services.
Dianne: To keep up with the changing trend.
Wendy: Yes. I remember like five years ago, we still get a lot of requirements to do Facebook  apps. Now there's none anymore.
Dianne: Right. Being here in the industry for over 16 years and counting on the 17th, what's your advice for people like you who once dreamed of owning his or her own business and I'm not only launching a business but growing and maintaining it. So what's your advice?
Wendy: Okay. I think first is just deliver what you promised your clients even if you're a freelancer, you're a smaller company. Just make sure you deliver what you promised so that you can get your clients' trust and keep them forever if you can. Also, you need hard work. When we started, I was also a developer in the company so I helped the other developers to build websites. I also stay late but now we can already do work-life balance since we already have no long-term clients that we work with and we understand how they work already. And I think also  integrity, you have to protect your integrity.
Dianne: Thank you for that Wendy. Before we end, can you give our listeners your contact information? How they can get in touch with you because I can see you also have a careers page, so interested clients and employees, they could apply it in your company. So how can they get in touch with you?
Wendy: Yes, they can go to our website. It's myoptimind.com. For interested clients, you can email us through [email protected]  or you can also check out our Facebook Page, it's facebook.com/digitalmarketingph. For those who are interested to apply, we actually have several positions open right now. Just email your resumes at [email protected].
Dianne: Thank you so much Wendy for taking the time in talking with us today.
Wendy: Thank you Dianne.
Dianne: So once again we thank Wendy Ang, the founder and CEO of Optimind Technology Solutions. Their website once again is www.myoptimind.com. I'm your host Dianne Grace for the Offshoring and Outsourcing in the Philippines podcast. This interview will be available on our website at www.offshoring.com.ph as well as on all our social media accounts – Youtube, Facebook, Twitter, Linkedin and instagram. Do check us out on Soundcloud, TuneIn as well as on iTunes. This is Dianne Grace for the Offshoring and Outsourcing in the Philippines podcast.