Guest:  Sean Si
Presenter: Dianne Grace
Sean Si is putting his excellent writing skills to good use with the reliable content found in the SEO Hacker blog site, where interested individuals can learn and familiarize themselves with SEO and digital marketing. SEO Hacker helps businesses (both locally and abroad) who need help getting noticed by search engines by providing rich content about search engine tips, tools, theories, updates and trends.Ouy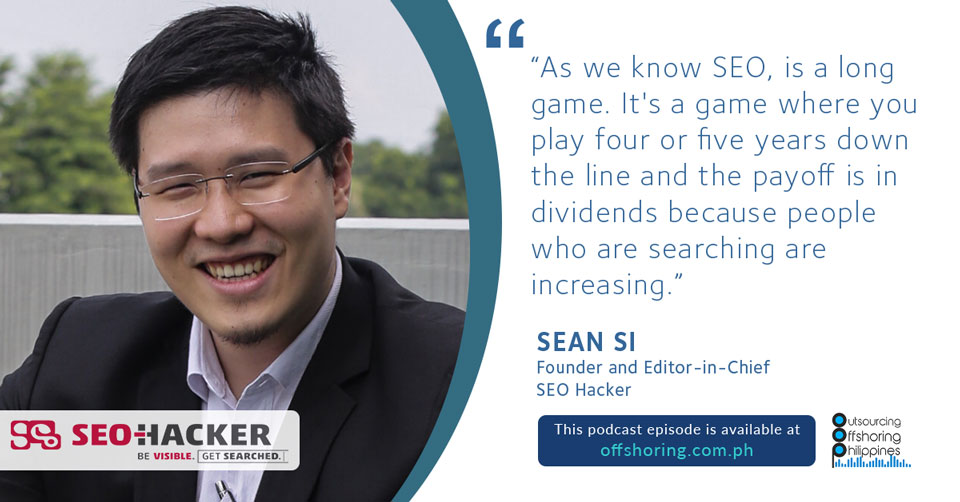 Sean Si does speaking engagements throughout the Philippines. He is the founder and editor-in-chief of SEO Hacker, an SEO and internet marketing company. His expertise in the field has drawn the attention of business and company owners, internet marketers, event organizers, bloggers, and other people interested in penetrating the booming internet market of the Philippines and abroad.
He has shared the stage and worked with some of the biggest names in the public speaking industry. Namely: Francis Kong, Chinkee Tan, Randell Tiongson, Anthony Pangilinan, Carlo Ople, former president, Joseph (Erap) Estrada, former president, Fidel V. Ramos, and Manuel V. Pangilinan to name a few.
---
---
Dianne Grace: Hello and welcome to the Offshoring and Outsourcing Philippines podcast. I'm your host Dianne Grace and our guest for this episode is the founder, CEO and editor-in-chief of SEO Hacker, Sean Si. Sean is putting his excellent writing skills to good use with the reliable marketing content found in their SEO Hacker blog site. They also have the SEO Hacker School where interested individuals can learn and familiarize themselves in the world of SEO as well as in the digital marketing space. So they inform educate and lastly if you or your business needs help getting noticed by search engines, they offer SEO Hacker's SEO services. Suffice to say sean has come up with this brilliant and strategic business venture. We would like to learn more from our very interesting guest so Sean, thank you so much. Welcome to the show.
Sean Si: Thank you for having me, Dianne.
Dianne: So SEO Hacker. How did it start?
Sean: Well SEO Hacker goes way back 2010. I was fresh out of college. I was doing SEO as a freelancer and it really started from the blog that I created at that time. I was writing about my faith, I'm a Born Again Christian and not a lot of people were reading my stuff so I tried to look around Google, how do I increase my readers because I was writing my heart out but not a lot of  people were reporting to my blog and Google was saying SEO. So I studied what it is, experimented on it because there wasn't really an authoritative website where you can learn everything. You have to kind of do it on your own and figure out what works and what doesn't. Some will argue that up until today, you still need to do that but the thing is today, you have a lot of resources out there already telling you this is what is ethical, this is what's not ethical, this is what works and this doesn't anymore. So SEO is really a lot easier now to try and learn and to start when you're just a rookie in it. So I had to go through the length and pain of doing all of these things and finally when I kind of had it all together, how to do it ethically 100%, I started to get some enquiries from my website. I started to get referrals from some people because SEO is not a big thing here way back 2010 and I was one of the I guess very few people doing it. A year after, 2011, I finally registered it as an official business and finally got my first office and hired my first in-house team and we really started with humble beginnings. I was doing pretty much everything during that time.
Dianne: So when you say pretty much everything, are you talking about writing?
Sean: Yes, everything. On-site optimization, the Unicode sitemaps well a lot of things didn't exist back then. There was no MP, there was no schema, meta was relatively simple. But these were still things that I had to deal with per client and had a handful of clients during that time so I was working crazy hours and all the way until I needed to outsource some stuff. And the problem with that is when you outsource it, you don't really control the delivery time and the quality of work so that gave me a couple of concerns and so I knew that the direction would have to be to hire in-house, control the delivery time and control the quality of the output.
Dianne: Well I have to admit, I am one of those people who really look into your articles back then. Ten years ago, yes.
Sean: I'm honoured.
Dianne: Especially the thing about white hat and black hat SEO with stuff like that, link building, there's so many helpful articles from SEO Hacker that I couldn't explain in my own justification how and why I chose a key phrase or why did I go to this direction. I needed some source I needed content and to be honest, I find your content reliable.
Sean: Thank you.
Dianne: While SEO continues to evolve there are some things that are still constant although there are many things that we don't do now because as you said, there are many tools right now that can help companies or their websites become SEO-friendly. But back then it's manual, right?
Sean: Yes, pretty much.
Dianne: You have to do it on your own from the sitemap, from the registration, the meta descriptions of your website so I can really vouch that your content is good. So Sean from your humble beginning, straight out of college, can you share your story like what was the landmark experience or what was the project that prompted you to skyrocket, help SEO Hacker put its name in the industry?
Sean: I guess what really helped us was not specifically a project but more of the blog. I guess you sharing how you found out about the blog, how helpful it was for you, I think that was also similar experiences to a lot of other people who were employed during that time. And so they would tell their marketing manager or their CEO that "Hey, you know what we need SEO and I know this guy I've seen the SEO Hacker Blog." So it's really the blog, not a single project that I did with a client that was able to catapult SEO Hacker to the branding that it has now. I told myself when I was starting out, I did not want to compete with the vicious cycle of competitive pricing and giving discounts and stuff because that's just not going to work especially in the services industry where you only have one body and you only have 24 hours a day. You cannot scale via volume, it's very difficult to do it like that. So I said I need to the good profit margin but in exchange, I would need to promise very, very high-quality results and I need to promise that I will be doing it ethically because no big company would want their website penalized. That's both shameful and unprofitable so I tried to figure out on my own how to do it right and finally when I have the roadmap pretty much intact to do it white hat, completely white hat, I was able to apply it to the SEO Hacker blog. And as you know the blog right now is ranking for very competitive keywords in the SEO industry such as 'SEO Philippines' which we rank number one for quite some time now and 'SEO services,' 'SEO company,' 'SEO agency,' we are visible in those keywords and pretty much the only company I think that's consistent across the board in terms of ranking 1st to 5th place. So that one's very important for me because I want my clients to see that I practice what I preach and I do believe in what I sell and the depth of my faith in what I sell is very very deep that I practice it myself and I prioritize my website in terms of the keywords I need to rank for.  
Dianne: Okay. Just curious Sean, it's just that 'hacker.' Hack, the word itself, it has this kind of negative connotation. What made you decide to name your brand or your company SEO Hacker?
Sean: Well a lot of people ask me that actually. When I was starting, I really did not think that SEO Hacker would become a company because SEO Hacker started out as a blog. It's an online journal where I was just writing everything that I was learning about SEO. And since the brand stuck because the branding of the blog was growing, it's what I used as the company name. The word 'hacker,' I know has the notorious connotation and it's the more popular one but the other definition of hacking which I prefer is 'someone who likes to improve, code' or who likes to improve in general so that's the definition that I believe I apply with in terms of SEO Hacker. So I SEO Hacker actually makes sense when the definition is phrased that way, meaning someone who likes to keep on improving SEO. And the advantage that I didn't see during that time was whenever I would present to a potential client, they would never forget us because we're pretty much the only company that sounds a little bit scary.
Dianne: Yes, that is true. Speaking of clients Sean, can you can you share what kind of clientele you have and where are they located all over the world?
Sean: Most of my clients are local because I like dealing face-to-face and I like local clients because they tend to stick around for a very long time and as we know SEO, is a long game. It's not a game of that's a couple of years, it's a game where you play you know four or five years down the line and the payoff is in dividends because people who are searching are just increasing. Bandwidth is getting better, all over the country at least and in other places. People are getting born, they're growing up, they're still searching, they don't know Yellow Pages anymore. Google has pretty much taken over and so it is very important now to be visible online. So I have foreign clients, I've worked with Singapore, Thailand, Hong Kong, China, Myanmar, Dubai. I've worked with Canada, the U.S. and New Zealand and Australia. If I remember correctly, those are their countries that I've worked with and done SEO for. Some companies in Australia, I've done only link building. These were during the earlier days of SEO Hacker where we would allow ourselves to do projects piecemeal. Now, we don't do that anymore because we want to control the outcome. We guarantee first page rankings and we cannot guarantee anything if you're only doing one part of the big piece of the pie. It has to be a holistic approach. SEO is a holistic practice and so this is why as I mentioned earlier, I prefer dealing with local companies. Some clients I work with here are medium to enterprise level companies such as Mega Global which owns Mega Sardines, The Generics Pharmacy which is arguably the biggest generic medicine supplier here in the country. I've worked with TV5, Uratex, I've worked with Toyota, I've worked with an international school and prime hotels. I worked with Solaric which is a solar-powered company here in the Philippines, among a lot of other clients. I think we've handled almost a hundred clients if I'm not mistaken, through the years and right now the current clients that we have are around 40 something clients, I think almost 59 and growing.
Dianne: Wow. Sean, you mentioned that you prefer face-to-face interactions. So where's your office located?
Sean:  I work and live in BF Paranaque, it's a city that hosts the International Airport here in Metro Manila
Dianne: Basically you live in your office, huh?
Sean: No not really, it's a sseven-minute walk away. My office is located in the third floor of a business center. I cannot sleep here and live here. I live in a bungalow house I was able to buy a few blocks down the road.
Dianne: So location is also important since you need to live near your office.
Sean: Yeah. The traffic here is, you know how bad it is, it's very bad and I guess it's a pro and a con. Pro is not a lot of people would want to do face-to-face business but those who are willing to take on that hassle of going through the traffic will get more business so I'm very much willing to brave the traffic in exchange for a long-term partnership. The con is I spend most of my waking hours on the road in the car actually so I am used very much to working in transit.
Dianne: Going back to your SEO Hacker blog, you pride yourself on sharing information and sharing your experiences in SEO. As you know other people or other experts would try to keep their secrets to themselves. They wouldn't they wouldn't want to share because that would mean more competition for them, but what is your belief in that you're doing the opposite? You share what you know, so what's the reason behind that?
Sean: Yeah. So one of the things I believe in is when you give, I know it's scary, especially when  you give knowledge for free but it's going to come back in dividends for a long period of time because there are a lot of people who are also not willing to compete or cannot compete with you and what they have is a choice to either get you or refer you but what happens is whether they compete with you or not, your authority is built in their mind. Now if they compete with you, it's going to be a fierce competition because for them, you're the giant and they're the underdogs and as we all know here in the Philippines. We all love underdogs, don't we? And some of the underdogs are going to be noisy in sharing that or the underdogs and this is what we're doing. We love our clients better but you can see how we handle things by the years that we've had with a client. I mean most of my clients have been with me five years now, that's the average, so we really value our relationship with all our clients. We treat them as partners, I educate them in terms of what's new, what they need more on top of SEO because there comes a point in time when the client is really getting a lot of leads, really getting very, very good number of sales and the return on investment with us as a partner is very very high so they ask us "What more can you do?" and we are able to expand the account that way. Another thing is as I mentioned earlier, we rank for the toughest keywords in the country so whenever I present, it's not uncommon for the client to ask me "Why are you charging double what the other company is charging or triple even?" And I tell them straight ahead that we may be the most expensive SEO company in the Philippines but we also rank very high for ourselves and you can also see our portfolio of clients, you check out their keywords, they're ranking very high, often in the first place. If you want to be like that and you know we can do it then you know you're going to make your money back and more. It's an investment. But if you get those other guys who are also presenting to you and they're half our price and one third our price, check out their rankings, they don't even rank on the first page. You want to get them? You're going to probably end up like them and you're not going to make your money back. You just spent a good amount of money because it's half our price, that's some money going out. But if you work with us, you know you're going to make it back and more.
Dianne: I agree with you on that because you as you said, you do what you preach because it might be pricey now but it's going to be an investment and even if the client already finished the contract, the benefits of having a good solid SEO plan on the website, that would benefit them for years. I've seen that that before so they'll definitely get their money's worth. Sean, speaking of clients, where do you usually get your clients? Are they usually like fresh out of your website, like seeing your website from the search results or referrals?
Sean: Yeah. Well, most of our clients now come from those keywords that we rank for. So they look it up, they find my website, they run an audit or they send me an email and then we set a meeting and I usually close around 70% of those meetings which is a fairly good closing rate for me. Other than from the website, I get it from referrals because again, I started doing SEO almost a decade ago and a lot of people know that I do SEO in my circle of friends and family. So whenever SEO pops up in their companies or in their employments, they usually only think of just me and they refer me to the potential client. Other avenues are clients who have been burned, I mean I pitch them already but they got the cheaper SEO company, they got penalized because of the cheaper SEO company doing gray or black hat and they go back to us and finally tell us that "We want to do it right this time." So I get a good number of those clients as well.
Dianne: Okay, it's a good thing you said that because the next question I was going to ask is what would you prefer? Would you prefer a fresh company that you're going to be the first one to work the SEO or inherit clients that already had bad experiences from previous SEO providers that really messed up their website?
Sean: I prefer to start with a client fresh. The reason behind that is it is not that easy to lift a penalty from Google. You will have to reason with them, show them proof that you have cleaned up the act of a certain website and then let them know that a different SEO company is handling the client. This process takes 3 to 6 months so it's quite a painful endeavor and the client may come back to me and say "Hey why is nothing happening? It's been three months already, six months already?" I need to keep on explaining to them that this is not an easy process that takes time and control is in Google's hands, not mine. We can only do what we can do. That said, we do earn from the entire 6 months so that's not a bad thing but after even the penalty has been lifted there is that connotation that the point is that is now in Google's gray list or black list or whatever you want to call it because they did some stupid thing before. Or it may not have been them, it may have been their SEO company but Google considers it all the same because it's the company who hired this certain black or gray hat SEO company. So starting with a company that has not had any penalties, that's actually a lot better for me because the work is much more appreciated, the results are faster, we do not have any magical moments with Google just because we're a part of their gray or black list so it's more predictable when the rankings are going to go up and if it's going to stick.
Dianne:  I just recalled your previous answer about clients asking you how come you charge so high, but it's the same thing as to when they're wasting their money paying other companies which ends up with no result so I guess you are able to justify your cost.
Sean: That's true.
Dianne: So Sean, setting up your own business so it's almost 10 years now. What can you advise our listeners on how to keep on going because being a start-up is very challenging especially the initial years. But how were you able to rise above other challenges and make a household name for yourself?
Sean: Well a lot of people may not believe this, but the most important thing from you when you're starting on any venture, whether it's employment, whether it's business, whether it's investments is you have to have God in the center. I'm a born-again Christian as I mentioned earlier and I do believe that what uses it, being successful but miserable anyway and I've met a lot of miserable and successful people. I mean they're filthy rich, disgustingly rich, but at the end of the day I ask them "Are you happy about what you've accomplished and stuff?" And these guys, these people, they gamble they smoke and drink, they have mistresses but they're filthy rich. I mean if money can buy happiness, they have all the happiness in the world supposedly. And their answer to that is "I could be happier" so I told myself if I'm going to be successful someday, I don't want to be that person because that person is miserable. So that's something that that needs to be in place before you start anything. Surviving in business is another thing. Statistically speaking, 90% of all businesses fail that means only 10% makes it which is not a happy statistic. So the mission is how do you increase your chances to 20%, 30%, 40% and so on? And it takes a lot of things put together. I can summarize it to lack of perspective. A lot of people put money first over value. When they start a business, they become a little bit woody in their heads and say "Oh this is going to make a lot of money." When you value money first over the real value that you're about to give by starting a business, then it's going to crumble. Value has to be the most important thing, the value that you give. That is why I tell my clients "Why would you keep me? You're not going to keep me so I'm going to make sure that you get your money back or more because I want to stick with you long term. Meaning I'm more focused on value rather than money, that's how I do business. So the first mistake is lack of perspective. Second mistake is lack of wisdom. I do believe that wisdom does not come with age because I have met some old people who are clueless, careless and stupid and they are old so I believe wisdom is divine. The easiest way to get it is to ask God, just pray and that's for wisdom that's in the Bible that if you ask God for wisdom, he's going to give it to you. But a lot of people do not have wisdom in doing business foolishly, you are bound to fail because as the start-up owner and founder, you have to make decisions. You cannot not make decisions, you're the first manager and management it's all about making these decisions. So you have to have a lot of wisdom in which path is best to take. Thirdly, it is the lack of guts. Opportunity does knock only once. If it knocks again, that's another opportunity altogether and often that is a lesser opportunity. The younger a person is with more guts, the better the risks they can take and the more risks they can take because when you're married, when you have kids, you cannot risk as much anymore. So the opportunities that will come your way are going to be very very different and often, they are exponentially lower in value. You have to venture out, if there is no venture, there's no adventure – that's what I always say. And fourth is a lack of diplomacy. People underrate diplomacy but it is a must in selling and it is a must in keeping clients. If you are not diplomatic in your approach to a business relationship, it's not going to last. Diplomacy is all about being sensitive and being effective. 'Sensitive' means you deal with the heart, the root. And effective means you are able to accomplish whatever it is you started to negotiate on, that's dealing with the mind, the logical, the data. If you do not have both, you will fail and a lot of people do not deal with the heart and a lot of people when they talk, they offend. So some people say to a client "I can't do that" when they can say instead "How do you suggest we accomplish this?" You see, both things are pertaining to you not being able to do it but with using the latter, you are giving the other person a sense of control so it is more respectful. And with the latter, it is an open-ended question so you are actually making the other person think of a solution and if there is none, then they would not ask you to do it which is your initial purpose anyway. There is, I believe, a better way to say anything and everything and you have to figure that out if you are going to be a founder and a startup owner because diplomacy, it's not a simple thing. You don't learn it just because you're alive, you have to be intentional. I've studied books about it, very very interesting stuff and that's one thing that a lot of business owners do not pursue. And lastly is laziness. There are times when I am lazy, I play computer games and  in I'm not doing business and work for my company but what I figured out is successful people successful entrepreneurs are lazy for a lot less in terms of time and they're a lot rarer being lazy. People who are unsuccessful in business, who fail in starting up a business, they are lazy a lot longer and they are lazy more often. The difference is, one form of laziness is recreation the other form is addiction and if you're addicted to Netflix and just not doing work, you're addicted to computer games, you're addicted to I don't know like other stuff like friends, it's going to bite you back in the ass someday because one thing that we can control as entrepreneurs is the time that we work, how hard we work, how smart we work and the length of time that we put in our work that is not affected by the economy, that is not affected by the market, that is not affected by our clients so it's something that you directly control and when you're optimizing your success rate in business, you're optimizing a 10% statistic which I already mentioned earlier, it's a very sad statistic. So if you're going to optimize it, optimize it with everything you can and if hard work is something that you completely control then work hard because it you don't, it's going to fail. So that's something that a lot of people also lack and those five things are very, very critical and I think that a lot of people miss out on that. This is why we have a statistic of 9 out of 10 businesses fail.
Dianne: That was so helpful Sean, sharing your business perspective. Let's go on to the employee side, you mentioned a while back it's about five years, the retention of your clients would be like a standard to five years. How about your employees?
Sean: Our employee turn rate was not good. I would like to say that it's also five years but it's just not the same. With employees, there are very many factors, arguably more factors than clients. So some clients churn because of factors that are beyond me, beyond my work and that is budget, restructuring or they're moving departments or they hired people in-house. There are very many reasons that are beyond me. With employees, it's the same but they have more reasons – their family's moving abroad, they're getting married, their dad died, they need a bigger income, their team leader offended them, I offended them. Even if we are just reprimanding them which is also a form of servant leadership because if I don't reprimand you, how are you going to learn? How are you going to grow? There are so many things and especially the Philippines being one of the most, if not the most, emotional country in terms of workforce sensitivity. It is very tricky to handle employees here. Our longest employee has been with us almost three years now and that's the longest tenure that we've had. Arguably these people are gold, they're very, very loyal, they've helped uncover other employees who are bad eggs and wish the company to suffer so these are my lieutenants. I can also argue that we're arguably a young company. I've had a lot of hiring mistakes, more than I want to remember and the main reason why I made those mistakes is because I did not take enough time in hiring. The hiring process is very critical. You really find out who the best ones are but as an entrepreneur with a dominant personality, I'm the dominant faction of the DISC personality test. I am always asking "When can this be done? When can this be hired?" And I also did it all by myself before as I mentioned I started out just with me so I had the mindset that I need help and as soon as we can get it, the better. So whenever I hire, just like one interview that's it and I would hire him and that is a very poor hiring process. Now our hiring process is at least six steps and we ask the applicant to go home each time so we really do we take our time now in adopting, we call them adopted kids, adopted children and I'm their adopted dad here in the company because we treat each other like family. This is their second home, this is arguably where they spend most of their waking hours outside of their house so it's better if I told them if we treat each other like an adopted family because this is arguably our second home. So we are now very, very critical and careful about who we adopt in our family and that has proven to be very, very good for us. Unfortunately, this new process has not been intact until last year so we are not just seeing the fruits of being able to hire better people and more loyal people, more committed ones who see the company as somewhere they want to work long term.
Dianne: Well I was under the impression that your employees, after a year or two of learning your methods, they want to branch out and start on their own.
Sean: Yeah, well that's very, very possible. I've thought about that as well but if you look at it from the perspective of the employees here, since whenever I sell, they know how I sell and that's me telling the companies that "Hey, we are the most expensive but look, here are the response." And then since they practice SEO, they also try to realize "Can I rank for first place and beat SEO Hacker in those keywords?" I probably can of my own and so they throw in the towel and just not compete with us. Plus in our contract, we do have a non-compete clause that lasts for a bit amount of time so they did not try and start their own thing. Although arguably they can, there are some loopholes that they can exploit but I think we also built a very good relationship with them and I don't like burning bridges, this is why they would rather not compete with us.
Dianne: Well it's good to know that you don't like to burn bridges. For our audience, in case you're not familiar with Sean's work aside from being the CEO and founder of SEO Hacker, Sean is also involved in speaking engagements throughout the country.His expertise in the field has drawn the attention of business and company owners, internet marketers, event organizers, bloggers and other people interested in penetrating the booming internet market in the Philippines and abroad. Sean, can you share a little bit about your speaking engagement?
Sean: Yeah, sure. So I do talks all around the Philippines. For God and country, I don't charge anything. That means for churches, nonprofit organizations and schools, I don't charge anything. I just bring my books and I ask them if they want to buy, it it's how I cope with the  expenses and the time lost because of the speaking engagement. For companies here, I've spoken to companies such as Sun Life, BPI, an Aboitiz company, I've spoken to a lot of companies already actually and they usually get me four topics for sales, customer feedback, leadership. They also get me for digital transformation, digital innovation, SEO – of course I'm more known for those things and I've spoken to a lot of Expos as well. It's something that I like doing, I would say it's a hobby of mine and I'm blessed to be able to actually charge for it because my argument there is my time is limited and I could easily have used that time to grow my business so it needs to be compensated if I really respect myself and if I really respect my work and time. It also helps me to turn away the demand for my speaking services because there were a lot of schools and companies as well who were asking me if I can do talks for them and I did not want to outright just tell them 'no' so I asked them "Can you afford my speaking rates?" If they could not, then we already know that it's a no-go which is already a good way of turning them down. So that's pretty much it, I think.
Dianne: Before we come to a close Sean, can you tell our listeners once again how interested clients and employees get in touch with SEO Hacker?
Sean: So SEO Hacker, we're actually very very easy to get in touch with us. Just send us an email using any of our websites that's SEO-hacker.com, SEO-hacker.net or you can use my personal website at Seansi.org. People are asking me why didn't I get the '.com.' I want you to know that it has been bought already and I couldn't buy it. I think it's a German company that 'Sean Si' means something to them, I don't know so I was not able to buy the '.com' I'm using .org and you can email me there and that's my personal email. It might take me a bit of time, a bit of the delay to respond to you since I get around 70 to 150 emails a day and it takes me quite a bit of time to go through all of those emails which are maybe 70% of them are important so it might just take a little bit of time for me to get back to you but know that it it goes to my inbox personally.
Dianne: Alright. Thank you Sean once again for joining us on the show, I know you're a very busy person.
Sean: Thank you for having me, it's an honor.
Dianne: I'm your host Dianne Grace for the Offshoring and Outsourcing Philippines podcast and once again, we thank you Sean of SEO Hacker for joining us today. This interview will be available on our website at www.offshoring.com.ph as well as on our social media accounts – YouTube, Facebook, Twitter, Linkedin and Instagram. Also, do check us out on SoundCloud, TuneIn and iTunes. This is Dianne Grace for the Offshoring and Outsourcing Philippines podcast.