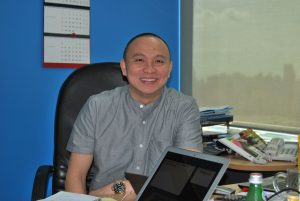 Guests: John Manzano
Presenter: Henry Acosta
Guest Bio: John is the Philippine Country Manager of TeleDevelopment Services (TDS). He oversees the formulation and execution of all strategic and tactical plans for TDS, driving the company's sales performance to ensure bottom-line profitability. John possesses 20 years of experience in all aspects of start-up operations, corporate management, service delivery, digital transformation and account acquisition. He previously served in leadership roles both captive and outsourced companies in QBE,Cognizant, 24/7 Inc., TRG, Convergys, DHL and HSBC.
Segment overview: For over 25 years, TeleDevelopment Services, Inc. has been providing clients with global outsourcing and back-office solutions. They have offices in the United States and the Philippines, they deploy experienced professionals to help organizations succeed from any location – domestic, near-shore, and offshore. Among the solutions they offer are Consulting, Executive Search, Healthcare Training, Language Assessment, Managed Services Specialized Recruitment, and Lean Six Sigma Training. Their global experience, local expertise, and client-centric approach to finding creative solutions to business challenges have given their BPO and contact center partners a significant edge in establishing, building and optimizing their global operations' performance, capability and success.
Address: Unit 3502-35 35th Floor Robinsons Equitable Tower, ADB Avenue, Ortigas Center, Pasig City

Contact Number: LOCAL (02) 631 8230

Website:  www.teledevelopment.com.ph
To know more about TeleDevelopment Services, listen to the podcast below.
The interview will start at the 43:50 of the podcast episode.
Transcript
Henry Acosta:  Hi, I'm Henry Acosta and welcome to the Outsourcing and Offshoring in the Philippines podcast. Today we have John Manzano, the country manager of Teledevelopment Services. He provides consulting services and solutions to the world's biggest companies and has been helping them achieve their goals for the 25 years. He has over 20 years of experience in start-up operations, corporate management, service delivery, digital transformation and account acquisition. He previously served leadership roles both captive and outsourced companies such as QBE,Cognizant, 24/7 Incorporated, TRG, Convergys, DGL and HSBC. Today we're here to talk about Outsourcing and Offshoring here in the Philippines and about what Teledevelopment Services can bring to you. Hi John, welcome to the show. It's a pleasure having you here with us.
John Manzano:  Hi Henry, thanks as well. Thanks for having me.
Henry Acosta:  Can you give as a quick introduction about who you are and what you do for Teledevelopment Services?
John Manzano:  Yeah, so I'm John Manzano, I'm currently the country manager … we do have a sister company as well which is the BPO Career Hub, so we're re-packaging that in a couple of months so we're gonna just call it to work, which specifically a job portal that's actually catering now, currently just catering to the BPO industry as well. So I manage both day-to-day operation, client acquisitions, as well as managing, again making sure that we deliver on our clients' expectations.
Henry Acosta:  And what do you think makes the Philippines different compared to other countries that service offshore and outsourcing services?
John Manzano:  I think the key attraction for a lot of locators here in the country is, one is our ability to speak in English, of course I think, I believe were in the Top 3 in terms of English capabilities in speaking, that's one. The second component I believe were actually much more catered to customers service. The Philippines being very Westernized culture, we have the passion to have the service and support a lot of vertical, may it be in the telco industry, may it be in the financial industry. Slowly now, we're seeing a lot of migration as well from an insurance standpoint, retail, and of course a lot of other industries that's also looking to consider here in the Philippines. A lot of it who have brought mostly in the social media aspect, Uber, Facebook, Grab are also starting to set up here in the Philippines.
Henry Acosta:  What makes Teledevelopment Services different from other outsourcing agencies that are already established here in the Philippines?
John Manzano:  I think our key differentiator is, with us having more than 12 years of experience in the Market. We have really set up and affected a lot of start-up companies, particularly from their market entry option. Just this year alone, for example, we've assisted, we're working on a 6 (six) start-up companies and these are companies that we have heard that the Philippines have great location to outsource and do business with and …and then based on labor arbitrage. Our advantage is our ability to assist these companies with their options. There are varying requirements for some businesses. For some businesses they would just want to outsource, maybe 1 (one) or 2 (two) XPEs, then we provide them a very good consultation and overview of what are their options to consider here. At the other end of that market, is once we have guided them on their market entry options, we then provide them as well with a list of what are their enablers for them to make it successfully here. Typically we do have partnerships with most of the brokers and landlords here in the Philippines' space, so if they want to find the space to set up the office, we have partnerships existing with that. We also assist them with their connectivity and telco and IT infrastructures, so we do have key partnerships in that areas as well. And at the back end of that of course, is the people component where we come in. We help a lot of these companies, we help recruit their first few key hires, that would be in the form of a country manager or a director for operation and then of course the other components that we help them hire would be their HR people, HR directors, HR VPs, well those start the company. After which of course, we do have a lot of resources looking in from the training standpoint, so if you, if they need trainers as well to assist with their rank, we also have that ability to support their growth. So I think from an industry standpoint our advantage really is we know the market, we can help them find the location, build their site, assist them with those things, and also help the people components. It is very critical, especially being with the market being competitive right now, so I think that's the value that we put in a lot of these engagements.
Henry Acosta:  And what will be your advice for anyone who's planning to outsource here in the Philippines?
John Manzano:  We always get that, I think that's the first and foremost advice is they need to have a client already. I have seen a lot of businessmen that would just say, 'Okay the Philippines is a good location to put up a business.' They would invest millions but a key driver for that is they need to have a client that will go through the business, so that's my first advice. I think the second advice of course is, they really need to look out what type of service they need to consider outsourcing. So that's a very important one because the back end of that is you need to hire the right people for those specific jobs that they need to outsource. Maybe in the field of finance,  maybe in the field of HR, or maybe in the normal call center work of a basic customer service. So those are, I think, my top 2 advices. For some cases as well, you need to be also very dependent also on the client. So there are some clients that, for example, would have already… and they would want to leverage on a particular location, really from business continuity standpoint, so a lot of them will have the vendors in Manila, so we do advice them to make sure that they probably would need to locate in another city, maybe at Cebu or another top… city for as continuity standpoint. So those are my usual advice and consultation. Again, it really depends as well on the number of FTEs that they need to outsource, because if you're going to do less than 300-250 FTEs, there are several options that you could really consider in doing business here which is not very capital intensive. So basically, it really depends on the engagement of the client Henry.
Henry Acosta:  And I see that we're talking about clients already. Can you share with us any experiences from some of your clients and any testimonials from them?
John Manzano:  Yeah, I think some of the existing engagement, we have a client that was into starting up their first operations here. They are actually a captive so they also needed to understand the market. So one of our pre-engagement there, was to help find the partner for them to set-up their operations here, so we did that. Second stage of that is we actually hired their first key leaders from country manager up until their HR, training and get operations and they've been very successful, they're now have grown too easily a hundred FTEs. They have now plans to even grow because of their success they have now plans to now even not only do their support functions from their insurance but they're also looking to consider by next year, their growth plans for a helpdesk to support their Australian IT requirements. That's one example, again it varies from one customer, there is one client that is actually assisted as well wherein there were a new player, they didn't have a brand out day in the market, so branding here is important so we actually used our digital marketing recruitment approaches for them to hire their first few ramp. So they already have the client coming over here there were also requirements for them to ramp up to 40 FTEs, just by doing a lot of our digital marketing, we were able to fulfill that requirement in a span of less than 1 (one) month as compared to an industry average of usually around 45-60 days and they have been very successful. They have grown now already from last year to around 60 FTEs, they're now growing to close to 300 growth plans by next year. So those are some key examples of how we have assisted a lot of these start-up companies here.
Henry Acosta:  With regards to any interested employees, what is your process when you're recruiting for employees and what exactly do you look for or what are the values that you're looking for within employees?
John Manzano:  Well I think it's very common across all businesses, when you recruiting for the right people, I think the first process is really creating that profile for you to look at. So for example may it be from a call center that would want to do say a helpdesk, if we sit down with the client and say what are the specific requirements. Helpdesk could vary from just being doing text support for a wireless modem, or it could go as far as a … platform wherein they're really looking at the connectivity of the platform with the existing systems that that company is using. So it really varies so we really sit down with the profile first with the client, do calibration sessions. At the back end of that Henry, from recruitment process, I think what we've done very differently here in the market since it's a very competitive year, is we've approached it the way we looked at applicants as like consumers. We looked at the attractions standpoint first, so we make sure that we did some analysis that 80% of people prior to joining a company, they would need to do a research first on what company they're joining. So we do a lot of … saying what are your key differentiators for you to attract that person? So that the attraction component, so we do that recruitment marketing component for them to be considered, we ask them to be, we put something engagement, gamification as part of their assessment, as you know the millennials are the new people that we want to attract, so we're keeping them engaged. At the back end of that, the industries here Henry, still very competitive. So once you've got them into the door, we need to assess them. With the industry averages at around 10-12%, so if a hundred (100) applicants come in looking to screen for voice, half of the applicants will probably … have around 10-12 people only. Basically, based on english speaking fluently, so we do have as well, under Teledevelopment we are a distributor for an assessment tool called Versant which is actually an AI type of assessment tool. So it assesses a person's capability to speak and write in an English manner. So that's how we recruited and of course the final interview we partner with the client, make sure that you're very calibrated and more of a job fit. So that's how we recruit here in the market.
Henry Acosta:  And what's the biggest challenge that your client usually face within they're transferring or starting outsourcing here in the Philippines?
John Manzano:  I think, the first one of course is always where to locate, and they need to understand where the market is. I think one of the biggest challenges sometimes is a lot of the companies specifically for the last players to consider outsourcing, they would probably being the, as the least considered, a company from branding itself a big component of that. So that's the biggest challenge that they would probably look at, how to attract the right people, not only from an entry level position but also from key leaders. The second challenge that they face as well, of course is, when you're starting your biggest challenge is how do you get that support function? So we come in there, as well as consultants and guiding them on what are the tools to use, what are the, when they're building their cost model don't forget to become very efficient and profitable in this industry. We give them a very good detailed market study on the compen-benefits salary structures of the industry, that's very critical when they're building their own cost model. So that's the biggest challenge that they have, so for example, in our current engagements for some of our clients, we spend more than at least 2-3 days building that cost model for them to make sure that they do it right because they would lose money if they don't build their cost models very well, so that's the pre-market entries. The challenge that they going their operating of course, would how to be to make their employees engaged and retain them, attrition is still going to be a key factor and a key challenge for a lot of these industries. So making sure that they're very competitive from a compen-ben standpoint that's one, what are the types of engagement activities that these companies would do and what now what we're seeing in the market is they're creating a lot of these google-type environments that are … space rather than the usual workstations and cubicles. So those are the types of engagements that we also sit down with the clients.
Henry Acosta:  For our last question, how can anyone who's interested in Teledevelopment Services get in touch with you guys, also where is your physical location?
John Manzano:  Yeah, well you can easily get in touch with us thru our website www.teledevelopment.com. They could see the full range of products and services. They could also reach to us through Linkedin as well, and then our offices we're located in Ortigas area, so we are at the 35th floor Robinson Equitable Tower across ADB Avenue Pasig City. Or they could reach us if they would want to get some businesses, they could reach us at [email protected] as well.
Henry Acosta:  Well John, thank you for being the show.
John Manzano:  Well, thank you as well.
Henry Acosta: And that was John Manzano, the country Manager of Teledevelopment Services. I'm Henry Acosta and this is the Outsourcing and Offshoring in the Philippines podcast. If you want to listen and find out more about Outsourcing and Offshoring in the Philippines, you can go on our website www.offshoring.com.ph. You can also find us on soundcloud and iTunes.